"Only an equitable distribution of wealth and democratic values can bring an end to violence"
Ranjita Biswas
&nbsp | &nbsp Guwahati
27-April-2015
Vol 6&nbsp|&nbspIssue 17
'One of the leaders passed the verdict that her hair should be snipped off. A girl who defied the diktat should be taught a lesson… Mainao's weeping increased, no she would not allow it; she would not cut her precious hair. The arrogant boy who had brought the scissors was ordered to cut her hair nonetheless.' ('The Girl with Long Hair in Written in Tears')
'Doiboki looked at them and then, in her familiar way of slapping her thighs when challenged, she declared, 'Yes, I am a woman. I bleed when having my period, I give birth to children. I am a fisherwoman, I earn my food selling fish. Yes, I have sinned by entering the temple. But I am not a thief. Last night military and hailstorm…' she could not finish as slaps and punches rained on her body.' (Doiboki)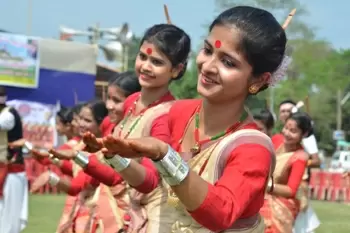 Kalita's protagonists are tough and they defy the diktat of society even though they have to undergo personal suffering for it. (Photo - for representational purpose only - shows artists at a programme to mark the onset of the Assamese New Year. Courtesy: IANS)
As these short extracts penned by Arupa Patangia Kalita clearly reflect, this award-winning Assamese writer is passionate about telling stories – of women, conflict, rights, injustice.
In fact, the Sahitya Kala Akademi award recipient, who is widely considered to be one of the most prominent voices in contemporary Assamese literature today, has produced an impressive collection of novels, short stories, novellas and articles that provide a strong voice to the oppressed as well as those living on the fringes of society.
Kalita's protagonists are tough and they defy the diktat of society even though they have to undergo personal suffering for it. Indeed, she has herself faced much hostility for not flowing with the tide, especially when her state was going through a period of major conflict in the late 1970s and early 1980s, generally referred to as Assam Agitation.
Whereas the movement had grown out of public protests against illegal migration, it later deteriorated into mindless violence and ethnic cleansing resorted to by a section of the agitators, something that the discerning writer was not willing to accept.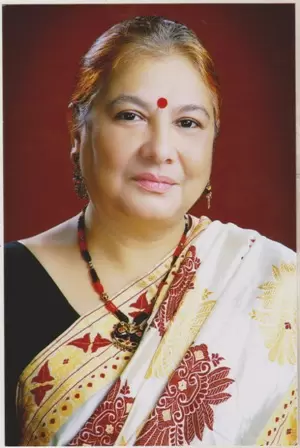 Kalita feels being a feminist and a humanist are not contradictory
"A quest for self-identity could not be sustained only on emotional outbursts. My point of view helped me to look at these things more dispassionately and many did not like it," she recalls.
Violence figures quite prominently in her works, not in gory details but reflected through its effect on common people living in those rough, unstable times.
Incidentally, her recently-released book, 'Written in Tears' by Harper Collins, is also a collection of narratives that are heartbreaking in their realistic portrayal.
'Arunima's Motherland' is about a new bride in a welcoming home, who witnesses its slow destruction because one member joins an insurgent group, even as 'The Cursed Field of Golden Rice' portrays a simple tribal woman, who loses her home twice due to internecine rivalry between groups.
In 'The Girl with Long Hair', Mainao is compelled to give up her beautiful hair because she has dared to defy a so-called social diktat, while in 'The Half-burnt Bus at Midnight' a half-burnt bus shatters the serenity and beauty of an otherwise pristine landscape, destroying everything that lay in its path: 'That bus, which had entered the town at midnight … had come from a place that had reverted to an uncivilized age. The community that wanted its own state wanted to establish its right over others and had called for a bandh. … Under the bright sun, the bus was burning furiously. Not a single passenger could escape from the bus.'
"Writing has been my escape route. I pour out on sheets of paper my reaction to life's many experiences, the strife I see, the pain I observe," shares Kalita, who has been feted with the Bharatiya Bhasha Parishad Award (1995), KATHA award (1998), Sahitya Sanskriti Award (2009) and Lekhika Samaroh Sahitya award (2011), among others, for the sensitive storytelling.
In most of her writings, which take an in-depth look at social changes, women and their experiences are central. "I have witnessed injustices heaped on women just because they are women. I can empathise with their plight, perhaps because I am a woman, too," she observes.
For instance, her novel, 'Dawn' (Zubaan), set in colonial Assam and stretching till the dawn of Independence, is about a woman, who, through her varied experiences as a teenager, wife and mother, emerges into an independent-minded woman, confident enough to stick to her own convictions.
The short story, 'Doiboki', is about a low-caste fisherwoman fighting her own battle. Then there also is 'Mother', about a village woman, Pomila, who loses her sons to bloody political conflicts.
The pain robs her of coherence and intelligence and she becomes "dim-witted": 'Pomila now ran to the corner of the room again and mumbled repeatedly, 'He'll come for lunch, he'll have rice.' The women were crying. Pomila came out from her corner and smiled at them like a child. She passed by them and took the rice plate outside to wash it.' ('As the River flows'; Harper Collins)
So, how does one classify Kalita – a feminist or humanist? "You can call me a feminist or a humanist, but I feel being a feminist and a humanist are not contradictory," she points out.
And yet, Kalita had once refused to accept a literary award from a prestigious Assamese literary organisation when chosen as the 'best woman writer.' She justifies her stand, "Why should I be judged separately when the works were on a common platform to showcase creative literary work in Assamese literature? Had the award been meant specifically for women writers, it would have been a different matter."
An eye for details and a richness of language are hallmarks of Kalita's fiction. Her stories paint an authentic picture of Assamese lifestyle, cuisine, a landscape where its flora and fauna are often used symbolically and embellished with folk elements.
Of course, though firmly rooted in her own milieu, Kalita's works do have a universal appeal with their humanity and insight into human behaviour. Apart from chronicling a disturbing and searing history of hate and aggression, she teaches English at a college located in the idyllic environs of Tangla, a little town at the foothills bordering Bhutan in northern Assam.
She writes in long hand, prefers the early morning hours to do her creative work, and openly acknowledges that her writer-critic husband has been the bedrock in her journey as a writer.
"I have my own political beliefs that guide me. I believe that only an equitable distribution of wealth and democratic values can bring an end to violence," concludes the unique and prolific storyteller.- Women's Feature Service

Trending Now: