The new age woman does not mind giving up on her career for the sake of bringing up the child

Azera Parveen Rahman
&nbsp | &nbsp Guwahati
13-April-2015
Vol 6&nbsp|&nbspIssue 15
It may have taken Sanyukta Bhardwaj years of hard work to establish herself as an architect but she decided to push the pause button on her career once her baby came along. Manhar is 15-month-old now and the young mother has not thought about getting back to work and is, in fact, happy to be a stay-at-home mom.
Can Bhardwaj and the ever-growing tribe of stay-at-home moms be seen as women who are "not career oriented" or "not driven enough" to juggle both motherhood and work?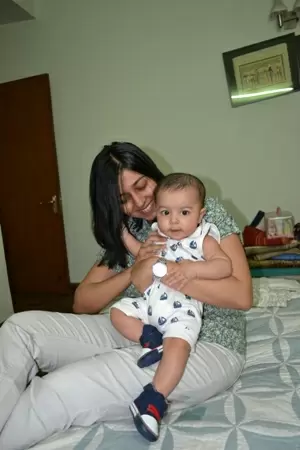 For Sanyukta Bhardwaj, a stay-at-home mom, giving a good upbringing to her child so that he grows up to be a good human being and a responsible citizen is a priority (Photos: WFS)
"That would be wrong," she says, emphatically, "I love my profession but I have opted to be a stay-at-home mother for my own sake. For me, giving a good upbringing to my child so that he grows up to be a good human being and a responsible citizen is a priority. I cannot expect someone else to do it."
It's only natural for women to put their professional life on hold in order to look after their newborn. Yet, to keep the pause button on for an uncertain amount of time, beyond the customary maternity break, out of their own choice, is what makes stay-at-home moms different.
These are essentially city women, with independent lives and flourishing careers, who decide to put everything aside to savour the experience of child rearing with little or no help.
Anumeha Gupta, an alumnus of the Mudra Institute of Communication and Advertising (MICA), was working for an advertising agency before she moved on to managing her family business for seven years.
But like Bhardwaj she, too, decided to toss it all to become a stay-at-home mom. Settled in the US for the past few years, Gupta blogs passionately about how being at home and seeing her two children grow up makes her happy.
"As a working mother I used to be very dependent on my domestic help, my in-laws, parents or basically anyone who could babysit my child. So, in a sense, opting to be a stay-at-home mom has made me independent! Mornings are easier, mealtimes are more relaxed, and I no longer stop my children from doing things for the fear that they would fall ill and I would have to miss a meeting," shares Gupta.
She candidly confesses that she has a deep regret about missing the first three years of her firstborn's life, something she is making up with her second offspring.
"What I have noticed is that there are fewer temper tantrums from my children nowadays. I realise that kids need unadulterated mommy and daddy time to be happy. So, no phones, no TV, and I spend all the time listening to their jokes, eating a peaceful meal, and having impromptu dance sessions," she says.
Apart from the fact that these new moms do take a lot of pleasure in bringing up their children first-hand another reason for opting to stay at home is that they do not have a large joint family to fall back on for support.
As more and more couples migrate to bigger cities for work, the responsibility of providing a good upbringing is falling solely on the mother and father. Whereas some do depend on domestic helpers and nannies to chip in, most are generally wary of leaving their children under a stranger's care, at least until they start school.
"For my husband and me, the option of leaving our baby in the hands of a domestic help was simply not there. We had heard horror stories of how they lace their food with mild sedatives in order to make them sleep so that they are free to spend time watching television or talking on the phone.
"Meanwhile, unsuspecting parents have no clue of what is happening once they step out to work. I know that is not the case with everyone but it was a risk I was simply not willing to take," says Bengaluru-based Karishma Khanna, who has a lively three-year-old son.
While Guwahati-based Tanvira Rahman has no such compulsions – she stays with her in-laws – this dedicated clinical researcher left her job after her son was born nine months back.
"When I had just conceived, I had thought of taking a one year break to look after my baby. At the time, my colleagues and friends had suggested I come back after six months. But when Zeeshan was born I knew that I wanted to be with him longer and not leave his care entirely on to my in-laws," she says, adding, "The formative years of a child's life are so important in shaping the kind of person s/he grows up to be. Once my son starts school I will think about getting back."
According to Khanna, she is consciously making an effort to emulate her "grandmother more than her mother" where her parenting choices are concerned. She had a working mother who had to join back three months after she was born, leaving her upbringing to her grandmother.
Of course, even as they decide to take a long break from their profession, stay-at-home moms have to learn to make several adjustments in their lifestyle as well as attitude. For starters, from having two incomes at their disposal they are left with just one although their expenses are increased.
"Handling finances is tricky business. You have your old lifestyle to maintain, newer expenses, and all of that at half the household income. Discussing these details clearly with your spouse before taking the decision is important so that there is no strain on the relationship," points out Rajeshwari Deka, school teacher, who has a two-year-old daughter.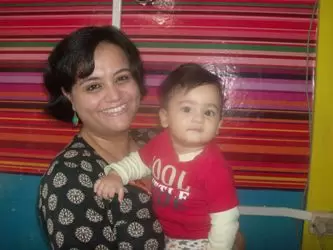 Guwahati-based Tanvira Rahman, a dedicated clinical researcher, left her job after her son Zeeshan was born nine months back
As she has decided to take time off work for a few years, Deka spends two hours every evening tutoring a few children from her neighbourhood. "It helps me take care of some of the household expenses, not because I feel guilty [of no longer working], but because it's a self-esteem booster," she shares.
Several other stay-at-home moms have come up with creative ways of income generation, whether it is starting up an entrepreneurial venture by converting an old passion like baking into a professional catering service or availing of the work-from-home option that many multinational outfits offer their female employees.
Given the high attrition rates, better pay packages, and good growth prospects, more and more companies are making their Human Resource (HR) policies more flexible, which is especially beneficial to women who would otherwise have had to leave their job to raise their child. Take Agra-based Roomani Bajaj, who continues to work for her Gurgaon-based company even as she watches over her eight-month-old daughter.
"My husband works for the defence forces and we get a transfer every few years. Therefore, the work-from-home option has always worked for the best in my case. And now that I have a baby, it is like a boon. I cannot imagine missing out on my daughter's little milestones and achievements and not being there when she needs me," says Bajaj, a technical architect.
Delhi-based architect Sangya Sar, whose daughter Kaynah is two, agrees, "Spending quality time with your children is very important and should not be compromised with as far as possible."
None of the women deny the pleasure they get in watching their baby take its first steps or speak for the first time or their first day at school, but they do caution about the "lows" that come with this choice.
"You will be constantly reminded about your degrees, will miss the financial independence, and suffer from low self confidence when you see your former colleagues and friends climb up the professional ladder," says Gupta.
"But at the end of the day you will not regret seeing your baby grow up or enjoying their childhood together," Bhardwaj concludes on a happy note. - Women's Feature Service

Trending Now: