A lifestyle magazine in Braille for the visually impaired

Surekha Kadapa-Bose
&nbsp | &nbsp Mumbai
04-October-2014
Vol 5&nbsp|&nbspIssue 40
Can you imagine life without your daily dose of celebrity gossip, fashion forecasts or restaurant reviews? For the majority population, there are several lifestyle magazines and online options available in every Indian language to catch up on the latest news and trends.
Today, Mumbai-based Upasana Makati, 26, has done the same for the visually impaired by launching India's first and only English lifestyle magazine in Braille. Through its 64 pages, 'White Print' brings the colourful world of glamour, food and films every month to its subscribers.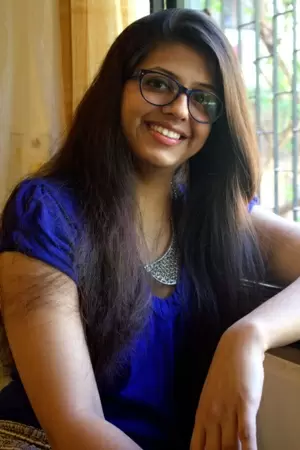 Upasana Makati has launched an English lifestyle magazine in Braille for the visually impaired (Photos: Surekha Kadapa-Bose\WFS)
How did Makati come up with this unusual idea of creating a publication in Braille?
"It just came to me out of nowhere really. It was the day after a national holiday and I was frantically looking for a newspaper to read - for many of us, the day feels incomplete if we don't read one. Right there I thought, if I can't survive without a newspaper for one day what must the visually challenged feel?" she recalls.
That's when Makati started to dig a little deeper. As she did her research on the kind of publications available for the visually challenged she discovered that apart from Reliance Drushti International's fortnightly Hindi Braille newspaper and a few other smaller regional new magazines there was nothing much on offer. And, of course, there was no English magazine being printed, current affairs or lifestyle.
After she investigated the domestic scene, Makati explored the international arena as well. Once again, she found a huge vacuum. Fact is that Braille is not a new language – it was way back in 1824 that Frenchman Louise Braille developed this code of writing. Yet, two centuries on, in 2014, too, there is meagre reading material available for this group, excluding school course books.
The numbers of visually challenged people are not small. According to a 2012 World Health Organization (WHO) estimate, their population is more than 285 million across the globe. This, as per reports of the World Blind Union, includes 39 million who have no sight while the rest are partially sighted or with lesser visual disability.
India alone has 15 million visually challenged people of which more than 3, 00,000 are children below 16 years. Among these, nearly 55 lakh are literate.
When she had decided to search for Braille publications being printed in India Makato was too young to have been able to do something with her findings.
Studies took over and this daughter of a finance advisor completed her graduation in Mass Communication in Mumbai followed by an exchange programme, OMG (Ontario-Maharashtra-Goa) that took her to Canada's Ottawa University for a one-year course in Corporate Communications. Once she came back, Makati, like most normal professionals joined a public relations firm in her hometown.
"It was while I was working at the agency that I felt restless and wanted to do something different than the usual work. So I got together with a couple of my college friends and decided to revisit my idea of creating a Braille magazine,'' says the young woman who struggled for nearly eight months and made three attempts before her title, White Print, was registered.
Inquire about her inspired title 'White Print' and she reveals that in Braille even pictures are coded in white. The 64 pages of the magazine have a variety of reading material and can give any popular lifestyle glossy a tough competition – it includes travel, fashion, music, food, columns, short stories, beauty tips and whatever else a youngster would enjoy reading in a magazine.
On her part, Makati ensures that every article published has some fresh idea to share – even the political column that celebrated journalist Barkha Dutt pens for her every month.
"Sometimes when Barkha is very pressed for time, she gives us permission to run her column that appears in the national daily, 'The Hindustan Times'.
"We also have freelancers from South Korea and the US as our regular contributors besides Indians, of course, who generously write for us," shares the founder-editor of 'White Print' who writes on music and also transcribes all matter filed into Braille code using the special Buxbury software. The National Association for the Blind (NAB) in Mumbai provides facilities such as proof reading and printing press.
'White Print' is available through a nominal subscription fee of Rs 300 per year and till today it has built up a subscriber base of 300 – from Delhi, Chandigarh to Cochin, Chennai to Kolkata and Darjeeling people have thoroughly enjoyed this read.
One obvious question that comes to mind regarding such a venture is financial sustainability. How does Makati generate the funds to run 'White Print'?
Here, paying heed to the advice of Raman Shankar, the director of NAB, who told her not to restrict 'White Print' by positioning it as a charitable project, she has followed the commercial publication model – ad space is sold at Rs 30,000 per page to generate revenue.
One of the first companies to come on board was Raymond, which sponsored five pages to publicise their Spring Summer collection. Tatas followed next. But the ad that generated a lot of interest among her readers was given by Coca Cola. They had inserted an audio clip in the centerspread, which played a catchy jingle every time the page was opened.
This is not to say that it's been easy to convince advertisers to place ads in the Braille format that is quite text heavy. Besides the fact Braille ads have not really been created in India before, one basic problem she encounters is that people don't even know what Braille is!
To overcome this Makati has made a very heart rending and informative five-minute film, 'B for Braille', written and directed by Sharat Kumar with background score by Kanishk Seth.
"The vocals have been penned by me, naturally," she says with a smile. The video, which is available on You Tube, already has thousands of hits. Clearly, Makati has hit the right note, pun intended.
'White Print' is definitely proving to be a positive trendsetter. - Women's Feature Service

Trending Now: