A unique agricultural school empowers tribal girls to stand on their own legs

Sarada Lahangir
&nbsp | &nbsp Mungeli
22-September-2014
Vol 5&nbsp|&nbspIssue 38
As soon as Rampyari Tulegam, 16, sits behind the wheel of the tractor, with her two friends by her side, the confidence and happiness she exudes cannot go unnoticed. It looks as if she is ready to take on all of life's challenges head on.
While across the Indian countryside it is not uncommon to find women toiling away in the fields as agricultural labourers, it's certainly rare to see young girls like Rampyari driving the tractor and tilling land.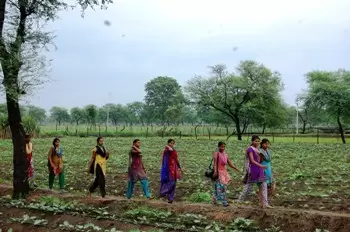 Students make their way to the open fields to learn farming first hand (Photos: Sarada Lahangir\WFS)
States the youngster, "Despite the fact that most of the back-breaking agricultural work is done by women we were constrained because certain key activities like tilling, for instance, has traditionally been done by the men only.
It's time we changed the scenario. I believe that a woman should know how to do everything on a farm so that she can truly become self sufficient."
Rampyari's observations are amazingly astute and quite progressive considering her age and exposure to the outside world. She has developed this positive attitude ever since she enrolled at the Gondwana Residential Agriculture School (Gondwana Aabasik Shala Tyaagi Krishi Vidyalay), which is especially open to dropout students.
At this unique school, being run from Bondtra, a small, dusty hamlet in Mungeli district of Chhattisgarh, 60 tribal children, a majority of whom are girls, are getting the incredible opportunity to gain a valuable life skills-based education. They come from various districts, including Surajpur, Jangir, Chanpa, Balrampur, Bilaspur, Kawrdha and Rayagad.
It was in 2010 that this institution was set up by the Gondwana Society on the suggestion of their leader, activist Hirasingh Markam. Says Markam, 70, "Tribals are among the most neglected and deprived people in India and, consequently, our girls are even more vulnerable to the effects of extreme poverty and a lack of opportunity.
"Illiteracy, ill health and violence are a part of their life and they are unable to break free from this vicious cycle. Education can play a crucial role in turning things around but there are very few avenues available to them.
"That is why we thought of starting a school where children not only get formal knowledge but they learn some special life skills so that they do not have to run for jobs. Instead, they can do something on their own and earn a proper living."
If Rampyari is making heads turn as she moves around the village comfortably on a tractor, then Sumitra Siyaram, 15, from Barkutia village in Surajpur district, is busy learning all there is to know about stitching.
She dreams of setting up her own tailoring shop in her village in order to financially support her family of five and, of course, make attractive outfits. "After my father passed away, my mother worked really hard and made countless sacrifices to raise us. Now it's my turn to help her out. I want to send my younger siblings to school and give them a better life," she shares.
Girls like Rampyari and Sumitra are thinking of engaging in gainful employment because they are slowly but surely developing skill sets that enable them to do so. Their schedule at this residential facility is quite rigorous.
Every day after their morning prayers, instead of heading to a regular classroom the students make their way to the open fields to learn farming first hand. From preparing the land to sowing to harvesting they understand and go through the entire process. Later in the day, it's time for more conventional studies along with classes in computers, embroidery and even cooking.
"During my four-year stay I have learnt everything about cultivation and I am raring to get back and put all my knowledge to good use to uplift my family. Apart from that I have completed my schooling till Class 12 through the distance education mode. I am also confident that I will complete my graduation. This school has taught me to dream," says Rampyari.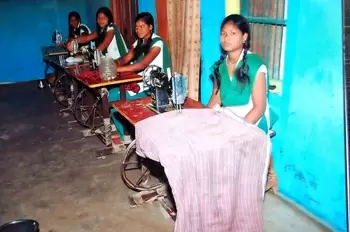 Students at the tailoring class
Even though most of its students call the institution "a real blessing in their life" getting it started initially and keeping it going ever since has not been free of challenges. It is flourishing only because of the singular support and contribution of the local community.
For instance, the five acre land on which the children learn farming has been donated to the school by Sriti Durve, 33.
Sharing her reasons for this generous gesture she says, "I clearly remember the time when I was forced to drop out of school in Class Eight and get married. I do not want that to happen to my daughters or to any other young girl. I want to see them do the things that I could only dream of."
Today, the school runs independently with its own income generated from the farm. Any shortfall is taken care of by the community. Ten villagers share the cost of books on a rotation basis, while every month 10 families donate Rs 10 each along with three kilos of rice to keep the mess going.
"Till date we have managed everything without any financial help from the government. We have invited agricultural scientists who volunteered to teach students the different techniques of paddy cultivation.
"These days, we get volunteers to teach computers and tailoring. The elderly women from the village take the cooking classes," reveals Dwibijendra Singh Markam, Coordinator and Secretary of Gondwana Society.
With a rapidly modernising economy the already marginalised tribal youth are further getting pushed into a corner. Yet, experiments like these, which reach out to them with knowledge and skills they can actually use to their advantage, clearly demonstrate how they can actively contribute to India's growth story and transform their own lives as well. - Women's Feature Service

Trending Now: