Haute couture is more about talents and not about nationality and hostility
30-August-2014
Vol 5&nbsp|&nbspIssue 35
Even as the world outside has been busy speculating on the breakdown of the foreign secretary level talks between India and Pakistan and the recent ceasefire violations at the line of control, the mood at the Lakme Fashion Week (LFW) Winter/Festive 2014 remained untouched by the political tensions between the two countries...
If anything, the three Pakistani designers who debuted at the 15th edition of the prestigious fashion event in Mumbai, displayed oodles of creativity on the ramp and were rewarded with thundering applause and appreciation from their Indian counterparts as well as fashion pundits and enthusiasts in the audience.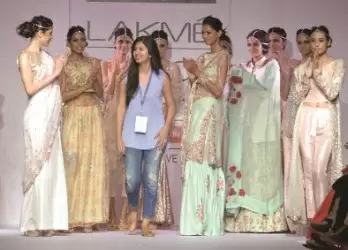 Pakistani designer Zara Shahjahan at Lakme Fashion Week 2014 showcased designs with the ancient Gara embroidery
Amidst a warm response Sania Maskatiya, Zara Shahjahan and Rizwan Beyg showcased their collections that represented the contemporary face of Pakistani fashion.
"We are thrilled to be participating for the first time on such a large scale in India. As we look to expand our brands regionally and internationally this experience is sure to provide an excellent opportunity for us to grow and forge new relationships,'' chorused the trio.
Jackets, pants, crop tops, waistcoats, skirts, one-shoulder tunics, gowns in prêt-a-porter and cutting edge haute couture; innovative prints, crystals and Swarovski embellishments; silks, chiffons and satins – all these elements were part of each designer's repertoire.
If they didn't stick to the conservative cuts and styles typical to their ethos, they also did not miss out on the opportunity to show off their traditional embroideries using them in generous doses in their works.
There is a general perception that Pakistani women adhere to the strict dictates of their conservative culture and always cover their heads whatever their attire.
But the Karachi-based designer Sania Maskatiya, 31, was quick to bust this myth. She said, "The youth in Pakistan is extremely fashion-forward and dresses quite well. Accessibility to various media has ensured that people are generally up to date with all the current trends. In fact, it is quite exciting to see them give their own interpretation to fashion."
Maskatiya, who launched her own label in 2007, has dressed some of the most well-known and influential women in her country, including Oscar Winning Filmmaker Sharmeen Obaid Chinoy.
Over the years, her brand has won several major style awards in Pakistan, notably the Lux Style Award for 'Achievement in Fashion Design-Luxury Prêt' category'. Recently, she was also short listed for the 2014 global 'Woolmark Award', one of the world's most influential design awards, which was won by Indian designer Rahul Mishra.
For her LIFW show, the designer, who has a degree in textile design from the prestigious Indus Valley School of Art and Architecture in Karachi, focused on beautiful Japanese prints.
Her collection, 'Sakura', which is like an ode to the cherry blossom, has been inspired by nature. The clothes have embellishments that are distinctly Japanese – there are landscapes and hints of treasure chest motifs.
Like Maskatiya, Zara Shahjahan, 34, strongly felt that although Pakistani youngsters like to remain within their cultural boundaries it doesn't stop them from being fashionable.
She said, "We are known for our immaculate craftsmanship and traditional, detail oriented handwork. The best part about Pakistani fashion is that as designers we get to infuse our crafts to create fusion apparel.
"We may be restricted by cultural boundaries but that only pushes us to create clothes that are truly unique. Western cuts and international colour and print trends are followed keeping our limitations in mind."
A designer who was scheduled to participate at the LFW but had to pull out at the last minute due to visa problems is Faiza Samee, one of the pioneering couturists in the Pakistani fashion industry, who has done considerable work towards reviving the heritage of the stitches from Sindh.
Her designs have been worn by former Pakistan Prime Minister late Benazir Bhutto and she has exhibited pieces at the Victoria & Albert Museum in London as well.
Having been a designer for over three decades Samee has seen her domestic industry evolve.
"In the late 1960s, fashion had become very trendy – with short shifts and straight narrow pants. New polyester fabric came into vogue and traditional embroideries went into a decline. During the early 1980s, I started feeling that our centuries old textile heritage was at risk of being lost forever.
"I set up a small workshop, the main purpose of which was to bring the embroideries back into the mainstream, so that they could be part of current fashion," she said.
Restoring local art forms as well as ensuring the sustenance of 'karigars' have been big on the agenda of most Pakistani designers. As an extension of this philosophy of empowerment Rizwan Beyg roped in rural women to create his Digitruck collection with the signature funky truck art of Pakistan that created quite a stir at the LFW with its bright colour scheme.
Of course, in addition to supporting grassroots artisans these conscious designers have been lending their name to social causes. For instance, Maskatiya has designed scarves for Layton Rahmatulla Benevolent Trust (LRBT) that provides free eye care for the poor in Pakistan.
To all the young designers who are gearing to step into the competitive and creative world of fashion the only piece of advice the trio has is this: "Don't imitate. Be yourself and take pride in who you are. Also be prepared for some hard work and a lot of commitment if you want to survive and succeed."
That's the mantra they have followed to set new style trends. - Women's Feature Service

Trending Now: