Now, you can get intensive care at the comfort of your home for less cost
Rupesh Dutta
&nbsp | &nbsp New Delhi
26-April-2014
Vol 5&nbsp|&nbspIssue 17
Imagine a fully functional ICU in the comfort of your home and at a fraction of the cost - Rs.7,000 to Rs.10,000 per day against Rs.25,000 to Rs.50,000 per day in a hospital. It's a reality in the national capital.
"Such services are up to the mark and cost-effective. As compared to a hospital, the cost of an ICU at home service is half. Additionally, the patient gets all the necessary treatment, equipment and infrastructure required," said Gaurav Thukral, head of Health Care at Home, who left his job as an internal medicine doctor at Fortis to launch the project last year.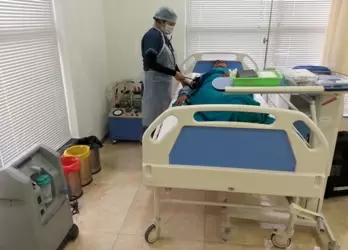 Gaurav Thukral's 'Health Care at Home' offers intensive care facilities at homein Delhi
Seventy-year-old Satish Kaushik vouches for the benefits of a facility like this.
Admitted to the Intensive Care Unit (ICU) of a hospital for over two months following a severe heart stroke, the prolonged stay only served to make him more distraught.
Unable to walk around much, he was confined to a bed and was bogged down by the fear of not ever being able to return home. The surging rent was another major cause of worry.
Even the doctors were unsure about the duration of his stay and told his family members they could take him back at their own peril, as without the benefit of an ICU, his life was at risk. The stress pushed Kaushik deeper into depression.
However, things changed for the better after a family friend pointed to a healthcare at home service. The service set up an entire ICU at Kaushik's home and helped him shift back.
Since then, not only is he able to spend time with his family members, there is also a marked improvement in his health.
Many such organisations providing health care at home have mushroomed in the national capital. They are not only comparatively affordable but also increase the chances of improving a patient's health as they spend time with their family members, unlike in a hospital.
Apart from setting up the ICU infrastructure, organisations like Thukral's also provide post-surgical care, post-joint replacement care, post-cardiac surgery care, pulmonary care, elderly care and physiotherapy.
"In a bid to provide the best facilities, we also give high-end beds, oxygen infrastructure, electronic beds, and ventilators, bedside monitors, dialysis machines and all the equipment that is available in the ICU of a hospital," Thukral said.
He said that special training is imparted to nurses, who are given a tablet device so that they can share real-time data with the doctors post-evaluation.
"Undoubtedly, it is a blessing for patients who are critically ill, and for those who prefer to be treated in the comfort of their homes," he said.
Ramya, director of Homital Medical Home Care Services, another organisation that provides medical facilities at home, said that such personalised care addresses the unique needs of every patient.
She added that prolonged stay at hospital leads to huge medical bills, putting enormous pressure on family members.
"While an ICU at a private hospital costs around Rs. 25,000 to Rs. 50,000 per day, the ICU set up at home costs only Rs. 7,000 to Rs. 10,000 per day," she said.
"A lot of importance is put on the nurses' training. Before joining such services, all of them undergo mandatory training of six weeks," she added.
Ramya further stated that the staff is taught clinical skills like infection control and life support.
Post-training, a clinical competency check is conducted to assess if procedures are performed in accordance with the best practices or not.
"An experienced nutritionist is also appointed during the care to ensure a healthy diet for the patients," she said. - IANS

Trending Now: