As tribal children face discrimination, there is some who find a way out

Pamela Philipose
&nbsp | &nbsp Shivpuri
21-April-2014
Vol 5&nbsp|&nbspIssue 16
There is very little that is hopeful about Resettlement Colony 3, home to the Sahariya tribals of Amola village in Madhya Pradesh's Shivpuri block, who had been displaced by the Manikheda Dam.
The landscape is rocky, and the cluster of sheds that houses them is just a collection of unwelcoming squares of brick and cement.
"The Manikheda dam on the Sindh river washed away our homes, our fields – our lives. For us, coming here has been like coming to hell," reveals Ramhet Sahariya, a community leader.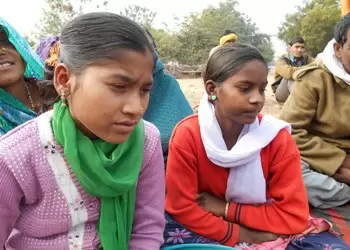 Thanks to the Bal Adhikar Kendra network, many children are going to school (Photo: Pamela PhiliposeWFS)
If the move was difficult for the adults, it was nothing short of catastrophic for the children. Living in Resettlement Colony 3 is one very unhappy little girl.
Nima is 13 and has studied up to Class Seven. But then she fell ill with a cough that just would not go away despite the cough syrups her father spent precious money on, each time he went into town. No one knows why Nima's cough persists but some suspect it could be tuberculosis, a common condition among the Sahariyas.
"Because of my cough, Madamji has cut off my name from the school register and I cannot go to school any longer," Nima whispers, as tears well up in her large eyes.
Would Nima's health have been better if she and her family had not been bundled up and discarded in this resettlement colony located off a highway down which trucks bound for Agra trundle past in a cloud of dust?
The Sahariya tribals of Madhya Pradesh, one of India's most marginalised communities, have been subjected to upheavals of all kinds caused by widespread poverty, continuing deforestation and project related displacement.
It is their children who have suffered the most as a consequence, whether it is in terms of poor nutrition, interrupted schooling, or indifferent health.
Observes Raghvendra Singh of Parhit Samaj Sevi Sanstha, a Gwalior-based organisation working with Sahariya tribals as part of an ActionAid supported programme evocatively titled, Freedom from Hunger and Fear Campaign (FHFC), "This campaign focused on the Sahariya community and we quickly realised that Sahariya children needed special attention.
"So we set up Bal Adhikar Kendras, or child rights resource centres, equipped with books, games and sports equipment, so that community children can get together, have fun, and talk about things that touched their lives."
Today, there are 88 such centres with a combined membership of 2474 children, 1165 of whom are girls.
How did the children themselves respond to the Bal Adhikar Kendras? Puran Singh Adivasi and Raju Adivasi, both 13 years old, are involved with the Kendra activities of their village of Dongarpur in Shivpuri's Kolaras block.
They now understand that child rights include their right to nutritious food, education, development and clean surroundings. "We meet regularly, take part in games, write and sing songs, as well as stage plays. We also know why toilets are important and why we need to wash our hands before we eat," says Puran.
Raju, meanwhile, sings a song that the children of his centre have composed, "Gaon ke bachche padte rehna, padte rehna, padte rehna – children of the village keep studying, keep studying, keep studying…"
In a situation where children like Nima drop out of school regularly, the urgency in his melodious voice strikes a poignant note.
Many Sahariya children face issues of untouchability and discrimination at school. Reveals Kaliram Adivasi, 12, of Dongarpur village, "Those who served the mid day meal would give us food from far (door se khana dete the)."
With the Sahariya children now empowered to speak out, such behaviour could be brought to the notice of the authorities.
According to Raghvendra Singh, a case of untouchability was even taken to the National Commission for Protection of Child Rights (NCPCR) for action.
Most of the children in the villages where FHFC is active are going to school nowadays, thanks to the Bal Adhikar Kendra network. In fact, it is the children who have helped to identify those among them who are not in school, or those whose parents are considering marriage for their under-aged daughters.
Self-confidence among these youngsters has also grown. Arjun, for instance, has gone on many trips and reels out the list using the tips of his fingers, "I have been to Pichour, Sipri, Bhopal - and also remember attending a big meeting in Hyderabad."
According to Umesh Vashisth of the Centre for Integrated Development, another organisation associated with the FHFC, Sahariya children demonstrate a keen sense of the environment, identifying trees by their leaves and different forest birds. "One of these children even attended the Rio Plus 20 meet in 2012," he elaborates. - Women's Feature Service


Trending Now: