When employers teach, homes turn schools with smiling faces
Kirthi Jayakumar
&nbsp | &nbsp Chennai
05-April-2014
Vol 5&nbsp|&nbspIssue 14
It seems as if all the housework has been completed. The home looks spic and span with an almost gleaming finish to its ambience. As I walk in, I see that the clothes have been hung out, and the utensils are neatly stacked and left to dry under the mid-morning sun.
This looks like the average Indian household, I tell myself, not quite prepared for the surprise that was about to hit me a few minutes later.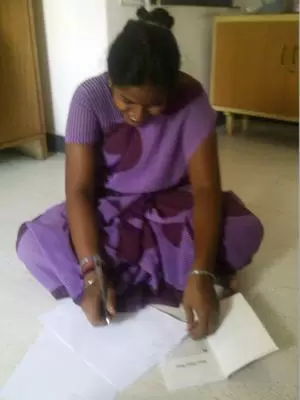 Kani is learning basic English and Maths from her employer (Photo: Kirthi Jayakumar WFS)
Somewhere from inside the house, I hear voices repeating basic spellings in English, interspersed by a few lines in Tamil by way of explanations for the meanings of some of the words.
As I make my way in, a heart warming scene unfolds before my eyes. The household helper, whose name I later learn is Kani, is poring over a notebook, pen in hand, while her employer, Gita, is teaching her.
"Every day, after Kani finishes all the work, we sit down and study together. Education has always been her dream," explains Gita.
Meanwhile, Kani is busy learning the vowels, pronouncing the many sounds they make and trying out new words for size.
"I come from a village, and my family always believed that only the boys should be educated. My sister and I were forced to drop out of school when we were barely into Class Six, while my brother is now on his way to becoming an engineer," Kani reveals.
By teaching her basic English and Maths, with plans to include other subjects like Science, History and Geography later, Gita hopes to give Kani a shot at achieving her dreams.
"Of course, without a regular curriculum, one cannot quite expect to put her through the regular courses, although it is definitely achievable. I just hope to be able to bring her one step closer to being literate," says Gita.
She adds that if Kani is up to it, she would love to train her in using the computer and becoming tech-savvy, "This way, she could undertake some vocational training in time."
School education in India, especially for girls, has had its share of challenges. Through much of the country's post-independence history, schooling was seen as a developmental goal rather than as a right.
Things have changed over the last few years. The Sarva Shiksha Abhiyan (education for all children at the elementary level) and programmes under the Right to Education Act have helped to achieve almost universal coverage of school education, but most of the enrolment seems to have taken place in private schools.
This indicates a significant shift in attitudes - parents are now beginning to perceive a dividend in investing in their children's education. But such a realisation has come too late for women like Kani.
To come back to her story, Kani was married when she was still quite young. She doesn't know her actual age but she looks to be her early twenties. Marriage put an end to any hopes she may have had to continue her schooling.
Says she, "When I got married and moved to Chennai, people told me that there were opportunities to study in the city, sometimes for free. But that never happened. Between running the home and earning enough to keep home fires burning, I had no time to even find out if such opportunities existed."
Today, she feels the possibility of being able to read and write has been kindled anew. "Now, with a few minutes spent learning each day, it is becoming progressively easier to access education," she smiles.
Gita, it appears, is not the only one who has taken to such teaching; and there are many more Kanis too in the city of Chennai.
Says Kani, "Once I was reciting my day's lessons to myself while waiting for the water tanker to come to our neighbourhood, and one of my friends asked me what I was doing.
"When I revealed my experiences to her, I discovered that she too was taking lessons from her employer. Slowly we discovered that there were many more like us who were making full use of the opportunities to learn that came their way."
These are young women who are discovering new pathways to the future for themselves, with some help from sympathetic employers willing to invest some time in their lives with, of course, some application of mind on their own part.
The "each one teach one" approach has indeed the potential to change many lives. Kani believes her future looks a lot brighter now and Gita is determined to help her reach the next rung in the ladder of change. - Women's Feature Service

Trending Now: