Meet the Chennai cyclists who are more into history that just pedaling for fund

P C Vinoj Kumar
&nbsp | &nbsp Chennai
05-July-2013
Vol 4&nbsp|&nbspIssue 27
Ramanujar Moulana can be seen on his bicycle around Chennai, since he loves to commute this way. He is different from most other cycling enthusiasts in the city who treat cycling as a hobby and prefer a motorized vehicle to move around in their daily routine.

An active member of the Tamil Nadu Cycling Club, Ramanujar has floated a new group called 'Cycling Yogis' for providing an activity that offers riders a chance to discover the state's heritage.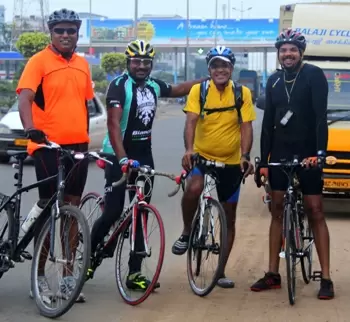 Ramanujar (left extreme) and his friends explore historical places on bicycles
The group interacts mostly online on their facebook page, where members are encouraged to share their "experience of riding a bicycle to a place of heritage or a historic landmark."

Interesting tidbits relating to cycling and information about upcoming heritage rides are posted here.

Images of the fast vanishing tribe of the 'ice-cream man' and 'tea-man' on their bicycles, and a clipping from an old issue of The Hindu that shows a cyclist arguing with a policeman dressed in khaki shorts after being booked for not having a bell on his bicycle are some of the vignettes posted on their page.

"Heritage and cycling are like two sides of the same coin for me. I want to promote a green world, a healthy lifestyle, and establish connectivity with the past," says 42-year-old Ramanujar, a post-graduate in history from Delhi University.

Last December, he had blogged about the historical places and UNESCO world heritage sites they visited during the 'Montra Tour of Tamil Nadu' organized by the Tamil Nadu Cycling Club. (The Weekend Leader was media partner for the event.)

In April, to commemorate World Heritage Day, Cycling Yogis took out a ride on Mount Road, an arterial road in Chennai where many British era buildings are located.

Starting from Munroe Statue near Fort St. George - the first British fort in India built in mid-17th century and where the Tamil Nadu Assembly is presently located – they rode up to St. Thomas Mount in South Chennai.

"We visited historic places on the stretch and I explained the significance of the places to the group," says Ramanujar.

They stopped at Suguna Vilas Sabha, which used to be a favorite haunt of the stalwarts of theatre in the early part of last century, the Cosmopolitan Club (established in 19th century) and Christ Church, one of the oldest churches of the British era in the city.

The group also visited Higginbothams, the oldest bookshop in the country, which began as a religious bookstore.

Ramanujar is now in the process of identifying historic places in north Chennai for the heritage ride they have planned as part of the 'Madras Day' celebrations in August.

"All our rides commence early morning by 5.30 am and end by 7.30 am. It is convenient for all including the police from whom we take prior permission before any event that we do," he says.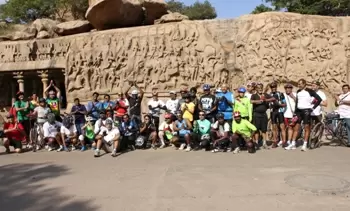 Cyclists at Mahabalipuram, an ancient port town near Chennai
Ramanujar, who is a part-time French teacher, says he wants to add more people to the group and make cycling a mass movement.

"I have made it a policy not to collect money from anyone. We do not collect any registration fee from riders. Sponsors provide us with refreshment and any other support we need," he says.

Ask him how he chose the name for his group, and he says he was fascinated by a group from Delhi called Cycle Yatris he met during one of his cycle expeditions in North India.

Given his philosophical bent of mind, and the inspiration he got from the Delhi group, he had hit upon the name 'Cycling Yogis.'

Ramanajur has recently started a blog on cycling matters and uses it to share useful information with his followers.

Trending Now: