Home spun entrepreneurs ride a new wave of confidence and self-worth

Azera Parveen Rahman
&nbsp | &nbsp Varanasi
03-May-2013
Vol 4&nbsp|&nbspIssue 17
Varanasi-based Sangya Pandey, a homemaker and mother-of-three, is a very busy woman. Like many like her, it's the hours preceding meal times that are most hectic.
The kitchen then becomes the epicentre of furious activity as she chops the veggies and stirs the pot of spicy curry, even while taking hot 'rotis' off the 'tawa' (skillet). All of these items will soon be ready to be served to eager and hungry...family members?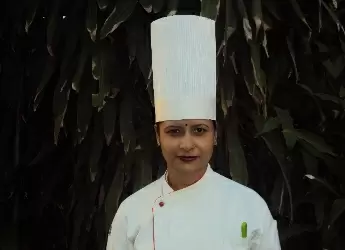 Sangya Pandey is among the growing tribe of
housewives-turned-chefs that the Gateway Hotels and Resorts of the Taj group has taken into its fold (Photos: Azera RahmanWFS)
No, here's the twist - she produces all this delicious home-cooked fare every day, not for her family, but for guests at a five-star hotel.
Be it cooking 'homely' meals, fashioning gourmet chocolates, teaching crafts like glass painting and candle making or expertly designing clothes, homemakers today are upscaling what they enjoy doing in everyday life and making it their part-time vocation.
In the process, these talented women are not just gaining financial independence, they are riding high on a new wave of confidence and self worth.
Pandey is among the growing tribe of housewives-turned-chefs that the Gateway Hotels and Resorts of the Taj group has taken into its fold in order to cater to the latest addition on their vast menu - home-cooked food, or 'ghar ka khana'.
Even as it spells comfort - for the body and soul - to the weary traveller, the fact is that these five-star meals are probably the most authentic representation of local cuisine, prepared by local homemakers.
"The only difference between cooking at home and cooking for hotel guests is that I have to cook slightly larger portions," reveals Pandey, who is one of the two housewife-chefs at the Varanasi property of the hotel group.
Pandey specialises in Saatvik food, a form of pure vegetarian cuisine that is devoid of garlic and onion. "I come to the hotel at around noon, after doing my household chores, and start preparing for lunch in a separate kitchen. I choose what I want to make, depending on the availability of seasonal vegetables.
"In winters, I make items like gobhi matar, kadi pakoda and aloo methi. In summers, the menu changes," she says, adding that she is happy to accommodate special requests from guests, even if they are not on her menu.
According to Natarajan Kulandai, the corporate chef of the Gateway Hotels, 19 housewife-chefs, who are working across their 22 properties, whip up 17 different cuisines - and they have been a huge hit. Plans are on to hire more such women with – surprise, surprise – "preferably no hotel experience".
If Pandey's food is enjoyed by five-star guests, Sarika Khan's specialties are devoured by students living far from their homes in the national capital.
"I remember my brother, a former Delhi University student, used to often call up my mother and complain about the food. He missed her home-cooked meals terribly," says Khan, a homemaker, who hails from Bhopal in Madhya Pradesh, but now stays with her husband in south Delhi's Malviya Nagar.
"After marriage, when I came to Delhi, I thought, why not start a small-scale tiffin service for out-of-station students? The idea was to give them an as-close-to-home kind of feeling through healthy and tasty food at a decent price because students live on a tight budget," she reveals.
Happy with the response to her tiffin service - she caters to 10 students - Khan says it also helps that the money she gets from it supplements the family income.
Her husband's salary is a modest Rs 30,000, and she manages to save around Rs 15,000 with her efforts. "Given the price rise, it is difficult to sustain the family on one person's salary in a city like Delhi. For a homemaker like me, such an initiative is also a confidence booster because not only am I managing things at home, I am also able to take care of some expenses and be economically independent," Khan explains.
For most women, while the reason behind their decision to start a small business or do something creative is not always about money, it does play a major role. However, most do it to feel empowered and confident.
For Meerut-based Monica Katula, who is quite well-known in her circle for making delectable chocolates, her 'work' is a means for her to feel good about herself.
While this 37-year-old mother-of-three had always enjoyed baking, an urge to learn new things made her enrol for a short-term chocolate-making course.
"Ever since then I have regaled my family and friends with my creations," says Katula with a smile.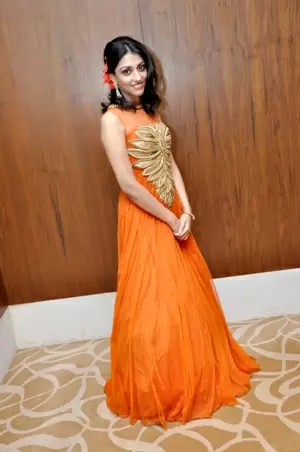 For Siddhika Bahl, designing clothes on the side was to give her creative energies an outlet
Married for 15 years, the turning point came about seven years back, when she decided to send a box of her homemade chocolates to her nephew as a birthday gift.
"He couldn't believe that the chocolates were homemade! He asked me to make some more batches to distribute among his friends. That was my first official order," Katula reminisces fondly.
Today, apart from orders for personal consumption, Katula caters for occasions like weddings, anniversaries, birthdays and festivals. Her charges vary depending on how fancy a box one wants - ranging from Rs 2-3 per chocolate to Rs 500 a box.
For Siddhika Bahl, a young married woman, the decision to pursue her interest in designing clothes on the side was to give her creative energies an outlet.
"I have been married for a year and while my priority lies in being a good homemaker, I do want to pursue my other passion too. Hence I design suits, gowns and saris. It is, of course, for a limited clientele that includes family, relatives and friends," Bahl says, adding that she designed her own engagement outfit, which was a big hit.
The 27-year-old, who studied design at a fashion institute, is now busy making the entire wedding trousseau for one of her friends.
Sama Sharma, another Delhi-based homemaker, who teaches candle making and glass painting - activities she counts as her hobbies - to teenagers in the neighbourhood every afternoon, says that it's important to feel good about oneself in order to be able to remain a positive influence for everyone at home.
"I enjoy being a housewife. But everybody has some talent, and I think all homemakers should explore the opportunity to take up some professional work on the side," Sharma says.
Agrees Pandey, "I am not doing something very different from what I usually do, and yet I get to learn so many new things when I cook in the hotel. Plus, the appreciation that I get from strangers makes me feel good about myself. My children are proud of me. I have set an example of professionalism for them. What more can one ask for?" - Women's Feature Service


Trending Now: