Fixing conked out hand pumps is now fairly easy in the village where women do it themselves

Pamela Philipose
&nbsp | &nbsp Jalaun
11-January-2013
Vol 4&nbsp|&nbspIssue 2
As one enters Rampura block of Uttar Pradesh's Jalaun district that falls in the Bundekhand region, there is a magnificent canal brimming with water that glistens like a polished mirror under the mid-day sun.
Turning off on to the almost non-existent roads that lead to Malhanpura village, a mere two kilometers further on, and the canal appears to be only a mirage. For the 272 families of this village, especially for its women, getting water for daily household requirements is a struggle that has aged their bodies and tormented their minds.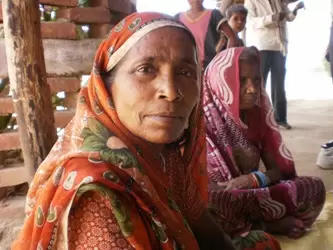 Somwati, one of the leaders of Malhanpura's Paani Panchayat (Photos: WFS)
Perhaps this has something to do with the fact that the authorities believe they can ignore the basic needs of Malhanpura's residents because they are generally poor, largely illiterate, and eke out an existence by farming small, unproductive plots of land or by fishing.
Some supplement their earnings by making ropes out of the moonj grass that grows on the banks of ponds, or fashion baskets out of the dried stalks of the 'arhar' plant, after the lentil has been harvested. As is the case elsewhere in Bundelkhand, many able-bodied men in this neighbourhood too have migrated to the cities in search of work.
It is in such an unlikely scenario that one meets a team of women who are looking at ways to make their lives somewhat less burdensome by working on issues of water access. About a year ago, they decided to form a 'water committee' or 'Paani Panchayat', with the help of a local organisation, the Orai-based Parmarth Samaj Sevi Sansthan.
Why did the women decide to focus on water? Answers Somwati, one of the leaders of Malhanpura's Paani Panchayat, which has a membership of about 20 local women, "Whenever we sat down to talk, it was almost always about the problems of water collection. So we understood the need to come together on the issue. For the last year we have been meeting every month as part of this Paani Panchayat. The first thing we did was to petition the authorities for more water sources."
In this way Malhanpur managed to get some extra hand pumps sanctioned. But then a new problem arose. These hand pumps often broke down, bringing the situation back to square one. Reveals Somwati, "Broken down hand pumps was a big headache for us." So the women met again to discuss the issue and that is where help from Parmarth came in.
The organisation is presently anchoring the European Union supported 'Women's First Right To Water Resources' project in the districts of Jalaun, Hamirpur and Lalitpur in Uttar Pradesh. To address the regular breakdown of hand pumps, Parmarth decided that the women themselves should be trained in the technology of hand pump maintenance so that they can at least handle the smaller problems that arise.
Parmarth volunteer, Shyam Singh, puts it this way, "Sometimes it is a minor fault – say, a bolt falls out. If this is handled at the early stages then one can prevent major breakdowns later. That's why we concentrated on addressing these small breakdowns."
It was all about the familiar principle of a stitch in time saving nine. If the local women were trained to be more alert, monitor the condition of the hand pumps on a regular basis and attempt minor repairs on time – repairs like tightening a loose bolt or putting a chain back in its groove – they could ensure that their hand pumps kept running.
But first they had to understand the basic structure of the hand pump, which the men in the village generally knew much more about, because repairing things was strictly considered a man's business.
Virendra Singh, 40, a resident of Malhanpur, for instance can tell the A-to-Z of a hand pump in a jiffy. He says, "I know, for instance, that every hand pump has a cylinder and a sleeve inside the cylinder. Then there are check valves, a plunger, the washer, a 'lifter', the GI bank, the rod bank, and the die crank.
"But if you ask a woman this, you would generally draw a blank. Yet, it is our women who suffer the most when the hand pump breaks down, because the entire responsibility of providing water to the household and the family cattle falls on them. We men are often away when such things happen and are often not of much help!"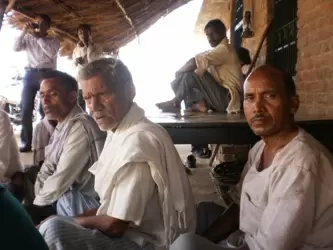 Repairing hand pump is no longer a male domain in Malhanpura village
In order to assist women in this task, Parmarth made available a hand pump repair kit (which costs around Rs 6,000 [US$1=Rs 55] in the market) in the village. Today, the repair kit is kept in a room in Shyam Singh's home, which is now called the 'Jal Soochana Kendra' (office of water affairs).
The key to this room is always available to anyone who needs to repair a hand pump. To borrow the kit, the Paani Panchayat member is required to enter her name into a specially maintained register, and make sure that it is returned with all its instruments intact.
Today, thanks to this initiative, when small things go wrong with a hand pump in Malhanpur the women have a much better idea about how to fix it. Says Somwati, "When the bolts in the 'danda' (the handle of the pump) get loose, for instance, we rush to fix it with a spanner from the tool kit. These small things we can now do ourselves. Previously, when a hand pump would break down we had to depend on the repair man from the Jal Board to come – and he could take ages to make an appearance!" - Women's Feature Service

Trending Now: