JP's jailor opens up on alleged shoddy medical treatment to the late leader

26-June-2012
Vol 3&nbsp|&nbspIssue 25
Today (26 June) marks the 37th anniversary of the Emergency. On the fateful midnight of 25/26 June, 1975, India lost its hard earned freedom when the then Prime Minister Indira Gandhi imposed internal Emergency and turned into a dictator.

The Constitution was suspended and citizens were deprived of their fundamental rights. Thousands of people were detained and strict censorship was imposed on the media. The most devious chapter in India's 28 years existence as a sovereign, independent nation was brought to an end by Jayaprakash Narayan (JP) who was among those detained by Indira Gandhi, Sanjay Gandhi and the coterie around them.

While in detention JP suffered kidney damage which eventually claimed his life four years later.

In a free-wheeling interview with Sam Rajappa, MG Devasahayam, the District Commissioner of Chandigarh and jailor of JP during the Emergency days, recalls his association with the leader, and responds to allegations that JP was not treated well in the PGI.

How frequent was your the interaction with Lok Nayak Jayaprakash Narayan and what impression did he leave on you?

I used to meet and interact with JP very frequently on an average once in three days. During the initial days of emergency, within the confines of the yet to be commissioned Intensive Care Ward of the Post-Graduate Institute, JP was a old, haggard, incoherent, disjointed and defeated individual who felt that all hopes had gone and freedom in India stood extinguished.

He had also mentally reconciled himself to die in confinement 'as a prisoner of Indira Gandhi.' But destiny had other ideas.
In the manner of Moses in the Old Testament, the Almighty destined this frail man, who once symbolised all that was fiery in India's freedom struggle and all that was noble in pursuing a cause, to resurge, rise again and re-emerge as the nation's hope and the alternate icon to lead the people back to freedom and democracy.

It is alleged that JP was not treated well in the PGI. How true are these allegations?

Administratively JP was given the best of facilities and dealt with in a very humane manner, which he himself has acknowledged. But there had been widespread suspicion and allegations about the failure of JP's kidneys due to medical ill-treatment in the PGI.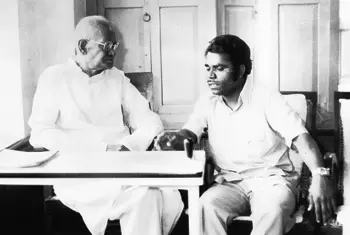 Devasahayam (right) with JP
I am not a medical practitioner and I cannot make value judgment on the adequacy or inadequacy, efficacy or inefficacy of the medical diagnosis and treatment given to JP while in detention.

But as 'JP's custodian in jail' I was responsible for his safety and well-being that affected the whole nation. This was all the more so, since I had been seeing him very frequently. Therefore, I am morally bound to state my position in this vexing controversy that has a strong bearing on India's political culture and medical ethics.

My position is that there was improper diagnosis of JP's serious ailments and lack of follow- up even when there was strong suspicion of kidney failure around mid-September, 1975.

The objective seemed to be to "put JP out of harm's way," if not eliminate him. This contention of mine is borne out of my close observations and from the 'circumstantial evidence' listed below:

• Though a known diabetic JP was not referred to the nephrology specialists in the PGI itself till the time he was released. As per available medical documents doubts of JP's renal failure had come up on 15 September itself. Yet nephrologists were not called in.

• PGI Director did not like JP to be examined by AIIMS specialists deputed by the government of India. He kept on saying that JP's ailment was psychological and not physical.

• Sabotage of reconciliation efforts between Indira Gandhi and JP, including those initiated by Sheikh Abdullah and Lord Fenner Brockway.

• Sanjay's ambition to become the Prime Minister while in his 30s and his coterie's assessment that JP was the only major hurdle to this ambition.

• The despicable drama that preceded the release of JP and the desperate attempts to delay his departure from Chandigarh and Delhi.

• Categorical statement by renowned nephrologist, Dr. M. K.Mani, the man who saved the life of JP: "if there had been a delay of two weeks in taking JP to Jaslok Hospital, he would have been dead." He was also equally emphatic that 'there was grievous failure on the part of PGI doctors in diagnosing JP's kidney damage.'

It is difficult to repudiate JP's charge that he was 'released only when the Indira government was convinced that I would not survive for more than a few days.'

But due to certain swift moves by me leading to JP's release on 12 November, 1975, JP defied death and lived not for a 'few days' but for four more years and succeeded in liberating the country from the autocrats and restoring it to democracy.


Trending Now: