PETA proposes battery operated vehicles for Mumbai's horse carriage owners
14-June-2012
Vol 3&nbsp|&nbspIssue 23
Animal rights group PETA Wednesday strongly pitched for banning horse drawn carriages in Mumbai, citing cruelty to the animal, and suggested it be replaced with battery-operated vehicles.
Forcing horses to pull carriages through congested traffic on stifling hot streets is not only cruel but also dangerous for the horses, carriage occupants and passers-by, said Manilal Valliyate, veterinary affairs director of People for the Ethical Treatment of Animals (PETA) India.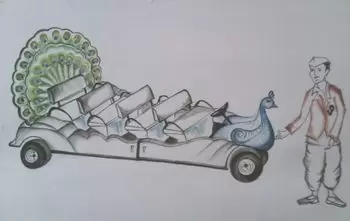 An image of peacock chariot suggested by PETA to replace horse drawn chariots in Mumbai (Photo: IANS)
PETA officials, in a meeting with Sitaram Kunte, Bruhanmumbai Municipal Corporation (BMC) commissioner, introduced an illustration of a battery-operated 'peacock' chariot and said that it might be the solution to replace cruel and dangerous horse-drawn carriages.
PETA claimed that the vehicle it suggested would be eco-friendly and owned and driven by the existing horse-carriage owners and drivers.
The proposal comes in the wake of Bombay High Court interim order to BMC to confiscate horses kept illegally. Kunte has agreed to look into the proposal made by the animal rights group.
Horses in Mumbai are forced to live in filthy, damp stables amid their own faeces and urine and are often left to stand without any shade, which is a clear violation of law, Valliyate said.
Many of the drivers don't have a valid licence to ply horse-carriages, he added.
A growing number of cities worldwide, including Delhi, Toronto, London, Oxford, Paris and Beijing, have banned horse-drawn carriages and adopted humane alternatives. - IANS

Also Read

PETA campaign leaves cart owners and their families in the lurch


Trending Now: