PETA campaign leaves cart owners and their families in the lurch
Quaid Najmi
&nbsp | &nbsp Mumbai
13-February-2012
Vol 3&nbsp|&nbspIssue 6
Rain or shine, they would deliver their ware. But, following a sustained campaign by an animal rights group and celebrities, Maharashtra has finally brought the curtains down on 465 bullock carts that were being used since 1906 for transporting kerosene in the city.
As per a recent notification, since Feb 1, the State Ministry of Food and Civil Supplies, through the Controller of Rationing, has discontinued the kerosene quota for bullock cart owners, said an official from the People for Ethical Treatment of Animals (PETA), which campaigned for five years on the issue.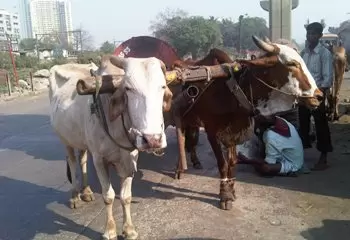 Bullock carts used to transport kerosene in Mumbai (Photo: IANS)
However, bullock cart owners are up in arms and have threatened to challenge the government move.
"Our families are on the verge of starvation, they have no other source of income. Many of them have been in this trade for three or four generations, but we have not got any notice or compensation from the government or the oil companies," said a fuming Bullock Cart Owners' Association chief, Jitendra Joshi.
Until the ban, the 465 cart owners used to regularly ferry one tonne of kerosene each day from the Indian Oil, Bharat Petroleum and Hindustan Petroleum warehouses in Sewri and Wadala in south Mumbai to retail outlets across the city and suburbs.
Nearly 500 bullocks were deployed on a daily payment of Rs.105-Rs.250, said bullock cart owner Abdul Ghani Sheikh.
Mahendra Karush, a third generation bullock cart driver, said his grandfather used to narrate stories of how the bullock carts helped tide over the shortage of trucks to transport kerosene during the British era and even later.
"The most important aspect was bullock carts were a highly navigable, cheap and all-weather option to transport kerosene. They functioned even in heavy rains or when the roads were flooded and in congested, narrow lanes to deliver the crucial cooking fuel to anxious citizens," says Karush.
Recounting a slice of Mumbai's history, he said the traffic problems started only after the mid-1980s and created problems for manoeuvring the bullock carts.
"My father used to complain that suddenly the number of vehicles seemed to swell on the roads and bullock carts were virtually driven to the pavements," he said.
A majority of the bullock carts were - and are still - owned and run by migrants to the city, mostly from north Indian states.
However, animal rights group PETA frowned at the practice and claimed that the animals were subjected to cruelty.
"These animals endured tremendous suffering. Many bullocks were underweight and ill, kept in filthy conditions and forced to work beyond their physical capabilities, pulling heavy loads in all weather extremes," said PETA's India director of veterinary affairs Manilal Valliyate.
The bullocks suffered from yoke gall (acute and chronic inflammation caused by pressure from a yoke or harness), maggot-infested wounds, infected sores, acute or chronic arthritis or intestinal problems, such as diarrhoea and impaction.
The animals were rarely, if ever, given veterinary treatment, created a traffic hazard and were a risk to the public, he added.
"Forcing sick or injured bullocks to pull heavy oil carts on busy, hot and polluted Mumbai streets is an act of extreme abuse. We are happy that the government has brought this archaic and illegal practice to an end," Valliyate said.
PETA India's campaign included numerous meetings with oil companies and the state government, demonstrations outside Indian Oil Company petrol pumps, disruption of a global Oil and Gas Review Summit and International Exhibition, and petitions signed by Bollywood actors Akshaye Khanna, Rahul Khanna, Raveena Tandon, Eesha Koppikar, Arjun Rampal and others.
Joshi also demanded that the state government initiate immediate measures to rehabilitate the bullock cart owners.
"If the authorities do not take priority steps, we shall be compelled to park our bullock carts on the roads or outside the government offices," Joshi warned, besides seeking legal recourse on the issue.
Another bullock cart owner Mahendra Karush demanded that the government increase the kerosene quota allotted to them and that the oil companies provide mini-tankers and diesel to existing cart owners, so they can remain employed. - IANS

The Weekend Leader View

While it is high time bullock carts are taken off the roads since they are a nuisance to other road users, the manner in which the livelihood of around 465 bullock cart owners has been affected due to the inhuman decision of the State Ministry of Food and Civil Supplies, deserves condemnation. A decision like this should have been taken after making a proper rehabilitation plan for the affected persons. Given a choice between 465 hungry families and few bullock carts on the road, we would prefer the latter.



Trending Now: