Saving precious water for his own people

Partho Burman
&nbsp | &nbsp New Delhi
19-November-2010
Vol 1&nbsp|&nbspIssue 12
In a society that has learnt to take corruption and illegal means of making money in its stride, Nityender Manav stands out as a brave heart of Rajasthan. His campaign against corruption and injustice in his native village of Paota fetched the thirty-year-old the prestigious Godfrey Philips Bravery National Award.

Manav, who was presented the award in Delhi on November 11, is an arts graduate. He wished to follow in the footsteps of his father Babulal Arya, who is an officer with Food and Supplies department and joined a course in civil engineering in Ajmer. But he discontinued his studies in 1998 after he saw hundreds of sand-mining units wasting away gallons of precious groundwater for filtering sand. It drastically brought down the water level from tube-wells, wells and hand pumps in Paota under Kotputli tehsil of Jaipur district.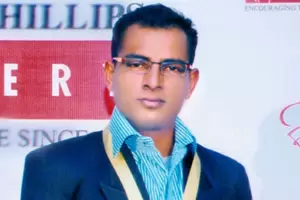 Nityender Manav refused to give up his fight against the sand mafia despite the threats and the attempts on his life
Manav cautioned the villagers that the days won't be far off when they would have to walk miles to fetch water. No one took him seriously. As a result, mining reached alarming proportions.

He set off single-handedly to stage an agitation outside the state Assembly. The government took cognizance of the matter. The mining units were destroyed in the presence of the district collector and superintendent of police. Whenever the miners tried to revive their operations, Manav alerted the authorities and put paid to their plans, which earned him the wrath of the operators.
Numerous attempts have been made on his life. Several false criminal cases were filed against him to silence him. Though some cases were later dropped, some cases are still pending against him.

The nexus between the mafia and authorities shattered him economically. "I had an auto-parts shop in my own land to sustain my family. But it was sealed by authorities who stated that agriculture can't be commercially used. But 80 percent of the shops in our area are in agricultural land," rues Manav, who is struggling even to pay the school fees for his son. But the school authorities, knowing his good work, have been sympathetic to him.

And Manav continues with his good work. He regularly organizes eye camps and health camps for the locals. Recognising his selfless service, villagers elected his wife Manju as sarpanch in January.

What has Manav got to say about bravery award? "My friends filled the form on my behalf. And believe me, I wasn't expecting it," he says.

Wish to share your story?
Trending Now: