Pulling street children out of ignorance and crime

Abhishek Pandey
&nbsp | &nbsp Kanpur
15-October-2010
Vol 1&nbsp|&nbspIssue 7
Railway platforms, particularly the ones that are not used, turn into dens for criminals. But the non-operational platform number 9 at the Kanpur Central Station, which is under construction, has been turned to a classroom. An MBA student Abhishek Singh, along with four friends, has been imparting education to 18 street children there for the past two and a half years.

Their main objective is to make the street children stand on their own feet by making them self-reliant through education. Their message to the kids: Education can change your lives.

"I always wanted to do something for society but I did not have the resources to take up a big social cause. One day, the idea of teaching street children struck me and I told my friends about it. Four of them -Sanjeev, Nitish, Vijay, Pooja Singh - appreciated the idea and were willing to join hands," Singh says.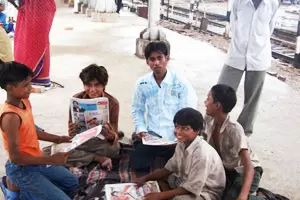 Abhishek Singh abandoned plans to move out of Kanpur to pursue a full-time MBA course for the sake of the children
Since they did not have a convenient place to take classes and the resources for arranging stationery and study material, the undergraduate students pooled in their pocket money and organised programmes in small schools for collecting books and other study material.

"After collecting the material, we made efforts to find a convenient place for setting up the classroom but failed. So, we decided to teach these street children at the railway platform," Singh recalls.

There were several reasons behind choosing the railway platform as classroom. First, the railway station and the surrounding areas were home for many children, who were either working as illegal railway vendors or involved in petty crimes like pick pocketing and drug peddling. Another advantage was they would save on rent.

So, for several months, the staircase of the foot over bridge became the benches for the students. Since platform no.9 was under construction it was isolated from the otherwise crowded station. Yet they had to face hurdles in the initial weeks as the Government Railway Police (GRP) and Railway Protection Force (RPF) officials used to shoo the children away from the station whenever senior railway officials inspected the place – normally twice a week.

Pooja Singh, a B Com student, recalls how it used to be a hard task gathering the children and motivating them over and over again. Understanding their problem, a senior railway employee, J K Pandey made available a room at the railway station premises for them on the days senior officials visited the station for inspection.

Though Sanjeev and Nitish left the city for higher studies, two other friends – Vijay and Anubhav Tiwari – joined the group in the following months. Singh, on his part gave up the idea of doing full time MBA by moving out of Kanpur and enrolled himself in a distance learning programme. He says street children also have dreams of becoming a pilot, scientist, police officer or anything else that catches their imagination. They only need motivation and of course education.
Wish to share your story?
Trending Now: