'Developing attractive public spaces in cities need of the hour'

29-August-2012
Vol 0&nbsp|&nbspIssue 1
According to evolutionary biologist S L Washburn, "most of human evolution took place before the advent of agriculture when men lived in small groups, on a face-to-face basis. As a result human biology has evolved as an adaptive mechanism to conditions that have largely ceased to exist. Man evolved to feel strongly about few people, short distances, and relatively brief intervals of time; and these are still the dimensions of life that are important to him."

The advent of the automobile has exacerbated this syndrome. In cities like Chennai, pedestrian infrastructure has become endangered, nay extinct, as roads keep expanding to accommodate the ever increasing vehicle population.
The author pitches for creation of ample public spaces, drawing inspiration from the 'street life' in Singapore (All photos by Aparajithan N taken during his visit to Singapore)
Coming from a city that has a rich pedestrian culture and many success stories that are owed to this pedestrian culture, it is tragic that we have lost a bit of ourselves to the longing for an emancipated life, a life of cars, shopping malls and fast highways.

Sitting behind scores of other cars, spending long hours on roads and being totally disconnected from human civilization except through man-made gadgets is not exactly the way 'emancipated' life was supposed to be.

With the advent of globalization, the term 'World city' has become synonymous with attractiveness of cities. Almost all the cities with a high world city score have a quality of life that is highly desirable and their pedestrian culture stands in the forefront of achieving this quality of life.

Face-to-face interactions have gained priority yet again and urban areas with their attractive architecture, historic fabric, or plain well-designed public spaces are the preferred locations for these type of interactions.

What makes a city attractive? In turn, what makes for a high quality of life in an urban setting? Is it just a beautiful built environment or a natural attraction? Is it a city that is steeped in history and folklore? Is it a city that is a gastronomic delight?

Is it a city that has a vibrant, joyous and colourful night life? Is it a city that provides job opportunities in spades and has a strong economy? Is it all of the above or any of the above or none of the above?

Whatever may be the factor, easy access to any or all of the above is what ultimately makes a city attractive. Human life is at its best when allowed to make spontaneous choices, and that is what an urban area offers.

The proximity of various attractions and the ability to spontaneously choose between them is what differentiates an urban area from a non-urban area. Being able to access them physically without the help of an automobile then increases this attractiveness manifold.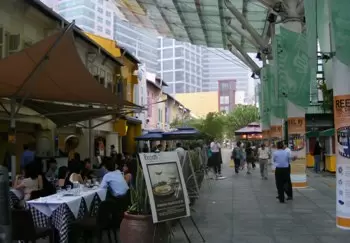 A few scenes from street-life in Singapore on a typical afternoon depicts a quality of life that is most desirable in today's World cities. It is settings like these that define attractiveness of a city and give it an edge over non-urban areas.

With over 50% of the world's population currently living in cities, most of them in mega cities of Asia and Latin America, the quality of life provided by these cities is an important matter of concern, with one of the issues being the existence of slums and shanties.

Chennai is already bursting at its seams with 24,000 people per square kilometre, which is roughly the same density as that of Manhattan. We do not need a pictorial illustration to visualize the difference between the heights of buildings in these two cities.

What it does bring to light is the fact that Chennai is overcrowded and horizontal growth is the only viable alternative. Should it come at the cost of our pedestrian culture, our lifestyle around busy temples and market streets and at a price that settles us in the middle of nowhere where the spontaneity of life is all but non-existent?

As a first step towards improving the quality of life in a city like Chennai, we need to take a serious look at our public transport.

Getting the metro train is not going to be a magic bullet in itself. We do have an extensive suburban rail network that has been working very well for the better part of a century. Revitalizing this network and making effective use of this should be the first step towards building a better Chennai.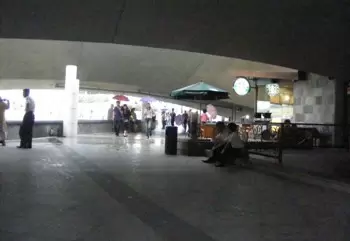 Trains in Chennai run overcrowded too, and they still run at six minute intervals at rush hour, while places like Moscow operate trains every ninety seconds. By improving the frequency of the trains, we will make the city more accessible to its citizens and this then fuels the change for a better tomorrow.

The railway stations could be made into attractive public spaces with ample office space. Spaces around existing and future stations should be put to use in a similar manner.

Indeed other transportation infrastructure such as bus depots and termini could also be developed into public spaces.

Such infrastructure, combined with effective and respectable pedestrian infrastructure, is the serious need of the hour that will enable us to make spontaneous choices between the attractions Chennai has to offer, thereby bettering our quality of life.

Aparajithan N is Principal Architect at AN Projects Design Pvt Ltd, Chennai

Wish to share your story?
Trending Now: