Use space technology for food security: Former ISRO chief
Sujit Chakraborty
&nbsp | &nbsp Agartala
15-February-2012
Vol 3&nbsp|&nbspIssue 6
India must embark on a "new evergreen revolution" with the extensive use of appropriate bio- and space technology inputs to ensure food security for all and enable the country to compete successfully in a globalised economy, says renowned space scientist U.R. Rao.
India's population is bound to cross 1.6 billion by 2050, which will demand doubling of our foodgrain production to ensure food security to all our people, according to him.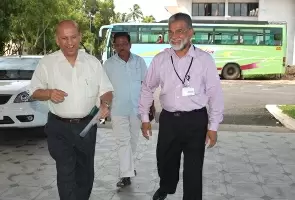 Rao banks on space technology to meet India's growing food needs (Photo courtesy: IIST)
And in the past one decade, India's agricultural production has remained stagnant between 220 and 240 million tonnes. Agricultural productivity (1.8 tonne per hectare) is much less than the world productivity of 2.6 tonne per hectare.
The solution, the former chairman of the Indian Space Research Organisation (ISRO) said, lay in the application of science and technology.
Rao was a member of an expert committee headed by economist A. Vaidyanathan which in a recent report to the agriculture ministry suggested using remote sensing technology in the development of agriculture.
The committee has also recommended setting up of a National Crop Statistics Centre to deal with all aspects of crop area and yield estimation.
In a free-wheeling chat here Tuesday, Rao said development of Indian satellites and their posting at the space orbits were for the development of humankind.
"Improvement and posting of satellites in space are meant for development of agriculture, education, health and medical treatment, forest and environment, communication, resource assessment and banking business."
Rao, who was here to attend the 4th convocation of the National Institute of Technology, Agartala, as guest of honour, said India's remote sensing satellites were being used to monitor and manage agricultural practices.
These include analysis of cropping system (satellites provide valuable inputs for diversification and intensification of crops), mapping of sodic and usar soils, assessing the impact of droughts and floods, weather forecasting and monsoon prediction. - IANS


Trending Now: