DMK too demands retrieval of Peermedu and Devikulam
12-January-2012
Vol 3&nbsp|&nbspIssue 2
With Kerala insisting on a new dam in place of the Mullaiperiyar Dam, DMK president M Karunanidhi Thursday revived a over five decade old demand: retrieval of Peermedu and Devikulam taluks from Kerala.
In a statement here, Karunanidhi said: "Now the central government should correct the wrong committed in 1886 by the British Governor of then Madras Presidency and the injustice committed to Tamil Nadu during the division of states on linguistic basis."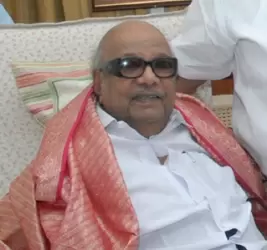 Karunanidhi's statement has attached more political significance to the demand for retrieving Peermedu and Devikulam
He hoped that the Tamil Nadu government would take earnest action in retrieving Peermedu and Devikulam taluks attached to Idukki district in Kerala.
Karunanidhi said the neglect of the demand to annex Peermedu and Devikulam with Tamil Nadu had resulted in problems over the Mullaiperiyar Dam between Tamil Nadu and Kerala.
He said the dam was built in Peermedu area while the catchment area falls under the Devikulam taluk, and both areas were under the Pandya Kings of Tamil Nadu till the 12th century.
According to Karunanidhi, historians have said that the British government in 1886 entered into an agreement with the Princely State of Travancore mistaking that the two taluks belonged to the latter.
Kerala and Tamil Nadu have been at loggerheads over the dam, built under an 1886 accord between the then Maharaja of Travancore and the British Raj.
While the dam is located in Kerala, its control is with Tamil Nadu and its waters serve the state.
Tamil Nadu wants the dam's storage capacity to be increased from the current 136 feet (41.5 metres) to 142 feet (43 metres) as per a Supreme Court order. Kerala wants a new dam. - IANS
Also Read

Historically and demographically, Peermedu and Devikulam taluks belong to TN

Trending Now: