When Malayalam films take precedence over a historic Assembly session
16-December-2011
Vol 2&nbsp|&nbspIssue 50
There is something rotten in the state of English print media in the Tamil Nadu capital city of Chennai. Any journalist with a grain of news sense would agree that the most important and news worthy event in the State on 15 December was the Tamil Nadu Assembly, in a special sitting, adopting a unanimous resolution expressing anguish over Kerala's false propaganda on the safety of the Mullai Periyar dam and the State government asserting that under no circumstances would it sacrifice its legal and constitutional right over the dam.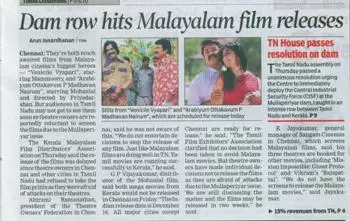 The Times of India
Ever since the dam was commissioned 1895, Mullai Periyar has been life-line of the people of Theni, Dindigul, Madurai, Sivaganga and Ramanathapuram districts on the rain-shadow region of the Western Ghats.
The dam is located on a 8,500-odd acre plot of land in the Tamil-majority Peermedu taluk of Idikki district, Kerala, taken on a 999-year-lease by the erstwhile Madras Presidency.
Of the four English daily newspapers published from Chennai, The New Indian Express and The Deccan Chronicle treated the Assembly resolution as the lead story in their editions dated 16 December. They also spelt the dam correctly, unlike their other two counterparts.
The Chennai edition of The Times of India, which is already facing charges of being headed by an all-Malayalee editorial team, did not consider the story worthy of page one treatment, but pushed it to the inside pages.

However, in its page one anchor story (where there was a 9 line single column box item directing readers to the news story 'TN House passes resolution on dam' on P9), it bemoaned two Chennai cinema houses not screening two Malayalam mega films on their Indian release date of 16 December.

K Jayakumar, general manager of Chennai's Sangam Cinemas, regretted his inability to screen the Malayalam films on the all-India release date as all his three theatres had already been booked for other movies and he did not have any spare screens to release the Malayalam films on the same date.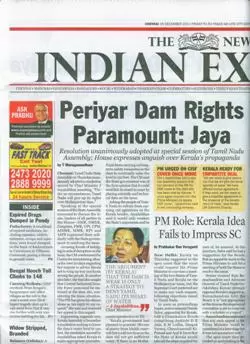 The New Indian Express
Abirami Ramanathan, president of the Theatre Owners' Federation, Chennai, made it clear his organization did not entertain any request to stop release of any film. There is nothing unusual about theatre owners' inability to screen films according to the whims and fancy of distributors. And such incidents never make news.

The Times of India by giving a spin to the theatre owners' genuine inability to screen the two Malayalam films on 16 December, has only succeeded in adding fuel to the strained relationship between Kerala and Tamil Nadu over the Mullai Periyar dam issue, and that too from its comfortable perch in the heart of Chennai.

The Hindu, rooted in Chennai, too has forgotten how to spell Mullai Periyar, though the agenda papers placed on the Press gallery in the Assembly has given the correct spelling in English, and chose the Malayalam spelling in English alphabet.

The Tamil Nadu Assembly story was treated as the third lead in its Chennai edition of 16 December, yielding the lead to the much-flogged Lokpal Bill, and second lead to one of our neighbouring countries recalling its envoy from another country.

Political commentator and PUCL activist, TSS Mani raked up the issue of The Times of India's unusual handling of the Mullai Periyar issue on Win TV in the news show, 'Cheithigalum Nijangalum' this morning. - TWL Bureau

Also Read

Rising emotions, falling objectivity, the truth behind Mullaiperiyar coverage in Chennai newsrooms

Trending Now: