Making waste management fun
V S Karnic
&nbsp | &nbsp Bangalore
04-November-2011
Vol 2&nbsp|&nbspIssue 44
Trust Bangaloreans not to waste an opportunity to turn any effort into fun and a 'habba' (festival). Groups of residents of the IT hub are out to prove that the most neglected aspect of Indian cities - waste management - can be fun and a 'habba'.
They are pretty pompous also about it, with the volunteer groups naming themselves 'The Solid Waste Management Round Table Bengaluru'.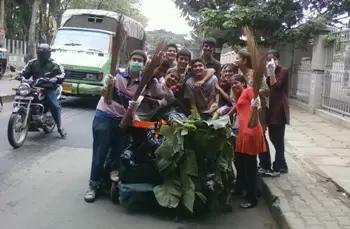 Members of Radio Active, one of the groups involved in the Bengaluru Recycling Habba'at a cleaning drive in the city
A Round Table conference is indeed needed to restore to the city the glory it enjoyed till a decade ago - clean roads, beautiful parks, tree-lined avenues, salubrious weather - the qualities that had made it a pensioners' paradise.
Its population has rapidly grown in the last 20 years, particularly after the IT boom as Infosys and Wipro made the city their home on their course to become new economy giants and in the process attracted multinational biggies like Honeywell, Oracle, Accenture and IBM to open huge offices.
From a paradise for retirees the city is now teeming with a population of 8.5 million and is flaunted as the most happening place for the droves of youth that have flocked to it from across India for jobs in IT, IT-enabled services, health, realty and hospitality sectors.
The growth has brought many problems too, including waste management, though traffic snarls are the single most grumbled about issue.
The 8.5 million population daily generates 3,500 tonnes of garbage and the government spends nearly Rs.402 crore per year just to dump it in landfills on the city's outskirts, after leaving it to rot for days on roadsides.
Though the city's reputation as tech hub continues to glow, rotting garbage on roadsides forces people to rush for cover from the stench.
Since the city civic authorities have not succeeded in their efforts to keep the place clean and green, several groups have come up to inspire fellow Bangaloreans to do their bit, voluntarily.

The groups have eclectic names also like Anonymous Indian, Green Commandos, Green Cow, YIMBY (Yes In My Back Yard) and Reclaim Bengaluru..It's Yours.
These, along with other groups - Radio Active, a community radio station of leading education group, Full Circle, Green Technologies, Daily Dump, Project Green Diamond, SAAHAS - formed two years ago the Solid Waste Management Round Table (SWMRT) to coordinate their efforts.
They are now organizing the first 'Bengaluru Recycling Habba' and plan to make it an annual event.
Why call it a 'habba'?
"Habba is the Kannada word for 'festival' and we have organised the Bengaluru Recycling Habba in a fun and celebratory way to encourage the public to take part," says Julie McGuire, a volunteer who edits 'Clean Sheet', a publication on waste management.
"We want to make it a festival of learning more about waste management and the importance of the 3 R's - reduce, reuse, recycle," she said.
Many programmes have been organised for the Recycling Habba starting from Nov 5, though it kicked off Nov 1.
There are awards also - Waste Wise Champion - for schools, colleges, resident welfare associations and corporate campuses for promoting waste reduction activities.
Ragpickers will also be honoured for empowering their children and fellow waste pickers.
The Round Table is thrilled with the Bangaloreans' response to the Habba.
"The initial response to the Bengaluru Recycling Habba from the authorities and public has been outstanding," McGuire said.
"We have had hundreds of entries for the first Recyclathon Awards and many phone calls and emails asking what people can do to clean up the city. No one in Bangalore is happy with the current garbage problems that the city faces," she added.
The Round Table effort is supported by the Karnataka State Pollution Control Board (KSPCB), BBMP (Bruhat Bengaluru Mahanagara Palike or Greater Bangalore City Corporation) and the Karnataka High Court Legal Services Committee.
The events till Nov 14 include stalls selling designer fashion, stationery, toys, bags, jewellery, home accessories, all made from recycled materials, display of products created by recycling plastic, tetra packs, glass, cloth, tins, waste paper and a guided tour on trail of trash from doorstep to the land fill and recycling market.
The SWMRT has so far initiated and introduced segregation, recycling and composting to 25,000 households, McGuire said. - IANS

Trending Now: