Kejriwal's shocking admission; Anna movement has no bank account
George Joseph
&nbsp | &nbsp New Delhi
29-October-2011
Vol 2&nbsp|&nbspIssue 43
India Against Corruption (IAC) "can't have its own bank account" as it is not an organisation but a movement, Arvind Kejriwal said here Friday, a day ahead of a crucial meeting of its core committee where allegations of financial impropriety against him and another Team Anna member, Kiran Bedi, are likely to be brought up.
"IAC is not an organisation. It is a movement. It can't have its own account," stated Kejriwal in an SMS, replying to a question on whether the IAC will be opening a bank account to receive public donations.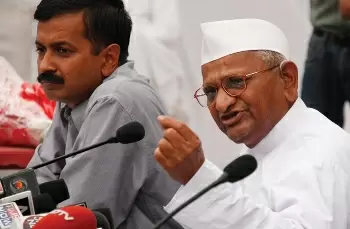 Banking trouble: Arvind Kejriwal says since India Against Corruption is not an "organisation" it can't open a bank account (Photo courtesy: Tehelka)
Kejriwal's reply comes in the wake of allegations by Swami Agnivesh - a founding leader of the IAC who has now parted ways with it - that Rs.70-80 lakh collected during Anna Hazare's 12-day fast at the Ramlila ground here in August were siphoned off to Kejriwal's private trust - Public Cause Research Foundation (PCRF).
Agnivesh had also said that Hazare suggested a separate bank account for the IAC.
But like Kejriwal, another IAC leader also said only a registered organisation can open a bank account. "Since the IAC is not an organisation, it could not open an account," the leader added.
The core committee is also likely to announce the schedule of publication of the accounts of donations during the Ramlila Ground fast.
However, Agnivesh reacted saying it was "delayed action coming after public criticism and pressure from Hazare".
Hazare, the prime leader of the IAC, who has undertaken a 'maun vrat' (vow of silence) since Oct 16, will not be attending the core committee meet here Saturday.
"My health still does not permit me to give up my 'maun vrat'. There is still some swelling on my feet and the knee troubles me a lot," Hazare wrote on his blog Thursday.
Also expected to be absent are former Supreme Court judge N. Santosh Hegde and social activist Medha Patkar.
Putting Kejriwal, a former government official, in the dock, the Income Tax department has slapped a notice of Rs.9.27 lakh dues for unauthorised absence before his leaving the service in 2006. The department has threatened attachment of property and criminal prosecution against Kejriwal in case of non-payment.
Media reports recently also said Kiran Bedi, a former police official, encashed inflated travel bills when invited to seminars and meetings. Though Bedi initially defended her action saying "the savings went to the public cause of her NGO", she later announced a refund of the extra amounts.
The meeting also comes in the wake of the attack on another Team Anna member, Prashant Bhushan, by rightwing activists over his comments suggesting a plebiscite on the Kashmir issue.
Saturday's core committee meeting is likely to accept the resignations of two members - Gandhian P.V. Rajagopal and Magsaysay award winning water activist Rajendra Singh - who protested the movement taking a political turn when Kejriwal campaigned against the Congress candidate in the by-polls to the Hisar Lok Sabha seat.
Singh had also said Kejriwal took decisions in an "autocratic way." - IANS

Also Read

Not with Anna


Trending Now: