'Kejriwal siphoned Rs.70-80 lakh during Anna Hazare's 12-day fast'
George Joseph
&nbsp | &nbsp New Delhi
22-October-2011
Vol 2&nbsp|&nbspIssue 42
Team Anna member Arvind Kejriwal had siphoned Rs.70-80 lakh belonging to India Against Corruption (IAC), headed by Anna Hazare, and diverted the money to his private trust, alleges activist Swami Agnivesh who has now parted ways with the anti-graft movement.

Kejriwal has demanded evidence for the charges made by Agnivesh.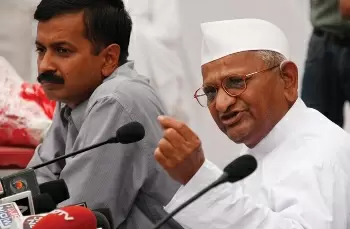 Swami Agnivesh, an erstwhile member of Team Anna, has accused Kejriwal (left) of siphoning donations into his private trust (Photo courtesy: Tehelka)
"Kejriwal siphoned Rs.70-80 lakh received as public donations during Anna Hazare's 12-day fast at Ramlila Ground in August into his private trust. It is a sad situation that the movement that began to fight corruption is involved in corrupt practices," said Agnivesh.
The Magsaysay award winner, he claimed, was refusing to produce the accounts.
According to Agnivesh, who was one of the founding members of the IAC, Kejriwal had delayed the operating of an account in the name of IAC despite several directions from the core committee to do so.
"Kejriwal instead saw to it that the contributions to the anti-corruption movement are received in the accounts of his private trust - Public Cause Research Foundation (PCRF)."
"This is a blow to the millions of people who had great expectations on the movement," he said.
Reacting to the charges, all that Kejriwal would tell in an sms message was: "Did he give any evidence?"
Agnivesh, whose photograph still appears on the IAC website, was ousted from Team Anna in August for his alleged proximity to the government.
According to Agnivesh, Hazare had stated at a meeting of the core committee in his village Ralegan Sidhi in September that donations should have been received in a proper account of the IAC.
Hazare had directed Kejriwal to publish the accounts by a scheduled date but that has also not been done, Agnivesh added.
The allegations come after The Indian Express reported Thursday that Kiran Bedi, a key member of Team Anna, had inflated travel bills when invited by NGOs and other institutions for seminars or meetings.
The newspaper claimed to be in possession of copies of bills, invoices and cheques, which show that Bedi, who is entitled to a rebate on Air India tickets as a gallantry award winner, paid discounted fares but charged her host institutions the full fare.
Defending herself, Bedi has said the organisations that invited her "voluntarily" paid her for business class tickets but she travelled economy and the money saved went to her NGO India Vision Foundation.
The clouds of controversy around Team Anna have been darkening.
Two members of the 26 member core committee - Magsaysay award winner Rajendra Singh and Gandhian activist P.V. Rajagopal - had resigned from the IAC earlier this week to protest the politicisation of the movement by Kejriwal. Rajendra Singh also described him as "autocratic". - IANS
Also Read

Team Anna member Kiran Bedi caught in 'air ticket' scandal

Trending Now: