A verdict faulted by three retired High Court judges raises many questions

20-October-2011
Vol 2&nbsp|&nbspIssue 42
As Martin Luther King had said it so profoundly, injustice anywhere is threat to justice everywhere.

A great injustice has been done by a Division Bench of the Delhi High Court comprising Justice Badar Durrez Ahmed and Justice Manmohan Singh when it reversed the well reasoned judgment of the additional sessions judge, Karkardooma courts, Delhi, Rajendra Kumar Shastri, who had convicted Ravi Kant Sharma, IPS, and four others for the cold-blooded murder of Shivani Bhatnagar, a budding journalist with The Indian Express, Delhi, in her apartment in the city.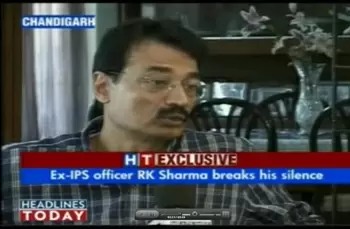 R K Sharma in a TV grab from an interview he gave Headlines Today after his release from prison
It is a settled fact of law that the burden of proof in a criminal case rests on the prosecution and the prosecution in the instant case had proved beyond any reasonable doubt the guilt of the accused by producing cogent, credible and legally admissible evidence against Sharma and his co-conspirators to eliminate Shivani.
Sharma was attached to the Prime Minister's Office as officer on special duty in 1998. Shivani came in contact with him in her capacity as a journalist.
She was able to get exclusive stories through her contact in the PMO. The relationship between the two became intimate and Shivani became pregnant.
Once she gave birth, Sharma started distancing himself from her. Shivani reportedly threatened to expose him and he decided to get rid of her. She was stabbed to death in her apartment on 23 January, 1999.
Led by standing counsel Pawan Sharma, prosecution gave a list of more than 20 circumstances which were clear proof of motive, conspiracy and guilt of Sharma

Seventy-three telephone calls Sharma made to Shivani and 58 calls Shivani made to Sharma in a short span, his subsequent distancing himself from Shivani, false defence that she was his family friend, evidence of Shivani's friend Sejal Shah and his sister Sevanti about her feeling dejected, according to the trial judge, provided sufficient motive to convict Sharma, but were ignored by Justice Ahmed.
"The quality of evidence before us is not of high caliber," Justice Ahmed wrote in his 12 October judgment. "Judges, like other human beings, also have suspicions, but judges, unlike others who are free to arrive at their own conclusions, cannot and do not convict on the basis of mere suspicion," his judgment says.
However, he confirmed the conviction of Pradeep Sharma, the hired killer of Shivani.
Bhagwan Sharma and Satya Prakash Sharma, who recruited Pradeep Sharma to help Sharma eliminate Shivani, were given the benefit of doubt and acquitted by Justice Ahmed.
"Once the link between Pradeep Sharma and other appellants, in so far as the crime is concerned, is snapped, there is serious doubt about the involvement of the others," says Justice Ahmed for whom the motive of the killing was unclear. Snapping of the link was a subjective conclusion arrived at by the learned judge.
He added, for good measure, "Although the motive behind Pradeep Sharma killing Shivani Bhatnagar is unclear, we have already found, on the basis of overwhelming scientific and circumstantial evidence, that Pradeep Sharma was the person who killed Shivani Bhatnagar."
The judge admitted many questions such as whether Pradeep Sharma acted alone or at the behest of Sharma remained unanswered.
By abusing his high rank in the Indian Police Service, Sharma had obstructed investigation proceedings effectively for three years and diverted it on family members of the deceased, thereby not only adding insult to injury but screening his own guilt from the investigators.
Witnesses were threatened to subvert the administration of criminal justice.
Three retired judges of the Delhi High Court – Justice JD Kapoor, Justice Sodhi and Justice Dingra – known for their knowledge of criminal law have found fault in the judgment of Justice Ahmed.
Justice Ahmed is the son of late Fakhruddin Ali Ahmed who signed the death warrant of democracy by proclaiming emergency on the midnight of 25 June, 1975, without even asking for a Cabinet resolution.
Sam Rajappa is Consulting Editor of The Weekend Leader

Following is the chronology of the 1999 Shivani Bhatnagar murder case:

Jan 23, 1999: Indian Express journalist Shivani Bhatnagar murdered at her east Delhi apartment.

July 23, 2002: Police arrest Sri Bhagwan, son of a former Haryana police officer, who had worked under IPS officer R.K. Sharma.

Aug 6, 2002: Panchkula court rejects R.K. Sharma's interim bail application.

Aug 23, 2002: R.K. Sharma suspended from service.

Sep 27, 2002: R.K. Sharma surrenders in Ambala.

Sep 28, 2002: R.K. Sharma sent to police custody.

Oct 25, 2002: Police file chargesheet in the murder case

March 20, 2003: Trial commences.

Jan 23, 2005: Case sent to fast-track court.

March 18, 2008: Court convicts R.K. Sharma along with three other accused for conspiracy to kill Shivani.

March 24, 2008: R.K. Sharma and three others get life term.

Oct 12, 2011: The Delhi High Court acquits R.K. Sharma, Sri Bhagwan and Satya Prakash. Pradeep Sharma's sentence is upheld - IANS

Trending Now: