Team Anna member Kiran Bedi caught in 'air ticket' scandal
20-October-2011
Vol 2&nbsp|&nbspIssue 41
Key 'Team Anna' member and former supercop Kiran Bedi has landed in a controversy following publication of a report in the Indian Express that accused her of claiming 'actual' air fares from NGOs and institutions that invite her for seminars and meetings, while travelling on highly discounted fares.

As a gallantry award winner – she was awarded the President's Medal for Gallantry in 1979 - Bedi is entitled to 75 percent discount on Economy class tickets on board Air India, the daily reported.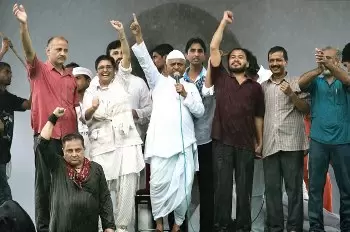 Kiran Bedi has claimed that she saved money to fund travels for good causes (Photo courtesy: Tehelka)
The paper reported that "she has also, at times, claimed Business class fare while flying Economy."

"Reimbursement cheques for these fares were credited to India Vision Foundation, the NGO headed by Bedi," the paper reported.

Bedi clarified that organisations that invited her "voluntarily" paid her for business class tickets but she travelled economy and the money saved went to her NGO India Vision Foundation.

Bedi said that it was all for a cause, adding, "The organisations voluntarily pay me for business class tickets but I duly inform them and save money for travels which are for good causes but cannot provide remuneration... there is no personal gain."
Stating that it was "saving for a cause," Bedi added: "I make a choice to save money so that it can be used for a good cause by not travelling in business class."
She also tweeted: "It's very interesting to see how saving for CAUSES by choosing to travel economy makes a headline in a news paper!"
"Travelling economy in reasonable discomfort despite (higher) entitlement is to ensure that savings remain with the NGOs. No personal gain here," said another tweet.
The daily claimed to be in possession of bills, invoices and copies of cheques which show that Bedi, who is entitled to a rebate on Air India tickets as a gallantry award winner, pays discounted fares but charges her host institutions the full fare.
- TWL Bureau with inputs from IANS

Trending Now: