Millions untouched by globalisation: Rahul Gandhi
20-October-2011
Vol 2&nbsp|&nbspIssue 41
"Globalization excludes as much as it includes," Congress general secretary Rahul Gandhi said Wednesday, adding that "it has affected millions who are damaged by its asymmetric application of power".
"Globalization has left out millions, and millions more are damaged by its asymmetric application of power. It is not new, and ideas, objects and people have moved across the world since time immemorial. There is an arrogance in claiming that globalisation is new," said Gandhi.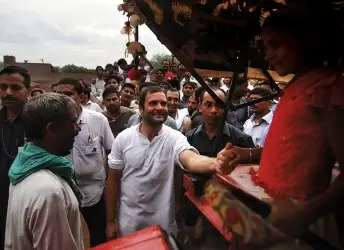 Rahul spoke on his favourite theme of 'two Indias' at the function (Photo courtesy: Tehelka)
He was delivering a speech on "Globalization, Justice and Rights" at an event to mark the 20th anniversary of the Rajiv Gandhi Institute for Contemporary Studies.
Rahul Gandhi's sister Priyanka Gandhi Vadra also attended the event besides the trustees of the Rajiv Gandhi Foundation.
"Every generation feels there is an onus on them to come up with something newer, faster and better. But globalisation doesn't belong to our generation; it is a process that has been going on since the time we first spoke our minds," said Gandhi.
"What is new is the speed with which ideas and people are travelling and coming into contact with each other."
Elaborating on his favourite theme of "two Indias", the Congress general secretary said "we are witnessing the birth of a new India, rapidly connecting across social and physical barriers" and "it is changing every moment."
"There was only one India 60 years ago and it was poor. That India was completely unconnected, both internally and externally. But India today has changed and is changing as we speak," said Gandhi. - IANS


Trending Now: