We are the family of an upright officer, we will cope up: Shweta Bhatt

Kavita Kanan Chandra
&nbsp | &nbsp Mumbai
17-October-2011
Vol 2&nbsp|&nbspIssue 41
Gujarat whistleblower cop Sanjiv Bhatt's family remains unfazed in the face of continued detention of the IPS officer who was arrested on September 30 based on a complaint from a police constable who accused Bhatt of forcing him to sign an affidavit that proved Bhatt's presence at a meeting where Chief Minister Narendra Modi allegedly asked police officials to let the Hindus vent their anger against the Muslims following the Godhra carnage.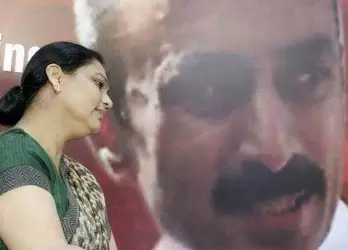 Shweta says the family will cope with the crisis arising out of Sanjiv Bhatt's battle with Narendra Modi
Bhatt has been unable to secure bail in the case, which activists have described as a "politically motivated" one.

"These are very hard times for us but we are the family of an upright officer and we will cope up," said Shweta, Sanjiv's wife, speaking to The Weekend Leader over phone from Ahmedabad.

The family has been put to severe hardship, and the children's studies have been affected because of the sudden developments. Their daughter is in her final year of MBBS and son is in class XII.

Shweta said they were brave children of a brave officer. The children are standing like pillars on their mother's side.

Civil society has also expressed support to the beleaguered family. In Ahmedabad, youngsters came out in large number to mark their protest against Sanjiv's arrest and organized a rally on Saturday.

They held placards with a simple statement that said, 'Release Sanjeev Bhatt immediately'.

It was a bolt from the blue for the family when Bhatt was arrested in an arbitrary manner and then kept in custody with criminals.

Shweta had written a letter to home minister P Chidambaran expressing concern about the security for her husband. She also wrote a letter to the Director General of Police, Chitranjan Singh, and Ahmedabad Police Commissioner Sudhir Sinha but to no avail.
A large number of youth turned up at a rally in Ahmedabad on Saturday to demand release of Sanjiv Bhatt
Shweta laments that not even a courtesy call came from their side. "There have been people roaming around near our house well past midnight and we feel threatened," says Shweta.

They had seen suspicious movement of persons taking down vehicle numbers parked near their house and when one K P Devda was caught loitering in their compound, he first became aggressive, but later had admitted that he was from the police intelligence cell.

Shweta alleged the state Government was spying on them. When she raises such questions, the senior IPS officers are neither apologetic nor take any steps against offenders. "Our house is raided, phones are tapped and then they resort to such activities," said Shweta.

"The situation in Gujrat is very bad as of now and everyone is scared to speak out against the Modi Government so I am keeping my fingers crossed," she said.

A local court is expected to announce its verdict on Bhatt's bail plea today.
Just in

Gujarat cop Sanjiv Bhatt granted bail; wife reaffirms faith in judiciary


Trending Now: