Urban poor or tribal children, hunger stalks them everywhere
13-October-2011
Vol 2&nbsp|&nbspIssue 41
It's not every day that you would associate the words 'food diary' with children and young people living on the streets. After all to maintain one they would need food to begin with.
Child Rights and You (CRY) volunteers, in their many years of working with children in situations of poverty, realised that the general public don't really understand what hunger means for children.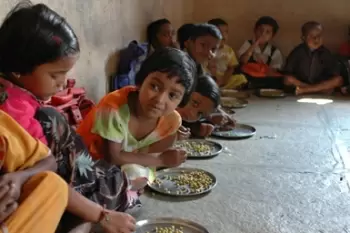 Survival tales: The way many children survive in India calls for serious introspection of our development model
So volunteers met with children from various backgrounds like those living on the street, young people involved in begging, tribal children and those commonly termed vagrants, to understand more about hunger in measurable terms, through a measurement of the calories they ingest on a daily basis.

Chronically hungry

Two-and-half-year-old Surjo Basfore lives with his five-year-old sister on Platform No 4 of the Kalyani Railway Station in Kolkata. Their combined earnings -- about Rs 20 to 25 a day -- are handed over to their father, who also begs for a living.
Breakfast is about half a puri, which brother and sister share. Lunch is about two handfuls of dal and rice. They usually don't get an evening snack. Dinner is about two more handfuls of dal and rice or one chapati.
Doing the math is easy. The total calorie intake for both children put together is about 1,000 calories. Surviving usually on food thrown away by railway passengers, they face chronic starvation.

They are too young to understand irony. But both children live within shouting distance of Kalyani's Food Corporation of India (FCI) godowns which stores about 11,000 metric tonnes of foodgrains.

More than eating

A few years ago the Supreme Court said that foodgrains left to rot in India should be distributed to the poor. Children like six-year-old Vishal will never know.
He starts his day with half-a-cup of tea and two biscuits bought by his mother from a pavement stall. Breakfast is one samosa-pav. Lunch is khichdi from a local charity, half of which he saves to eat in the late-afternoon.
By night he's really hungry again, which is when a small packet of fries is bought for Rs 5 – the only amount his mother can spare. Vishal's recommended dietary intake should be about 1,715 calories. He barely makes 800.
Food might be scarce but Vishal's address is a posh one. He stays in the backyard slums of Mumbai's Khar area known for its schools, shopping malls, hospitals and steep residential property prices. All it lacks is an anganwadi, which would have gone a long way to keep children like him fed.

Tribal and neglected

Six-year-old Dharma Pahariya and Sani Paharin, from the Godda district of Jharkhand, called the Santhal Pargana, have been eating only rice and salt twice a day. Their total calorie intake is a meagre 440 calories or about one-fourth of the 1,715 calories they should be eating.

Hailing from the Pahariya tribal community they live in a parched forest that has not seen enough rain in the last few years. Food is scarce. Malaria and Kala-Azar are still dreaded threats, as they were 200 years ago.
Earlier this year, media reports on the spurt of Kala-Azar cases in tribal-dominated Boyarizore and Sundar Paharia blocks in the district, prompted the Godda health department to push the panic button. But little has improved.

Food is so much more than just filling stomachs. Both doctors and people who work with children state that nourishment gaps at this age will result in lifelong poor health.
Such severely malnourished children will not have age-appropriate levels of development in terms of height, weight and cognitive development.

For such children the options are rather limited. A local nutrition rehabilitation centre (NRC) in Majhgaon, near Satna in Madhya Pradesh, a Government of India programme, runs a 15-day 'course' to bring near-death cases of malnourishment back from the brink of death with a two-week injection of essential food.
The centre admits and gives food to only infants, and not to older children or parents, making the entire effort rather pointless, given that usually entire settlements are dying of hunger. Media reports say that 10 children have succumbed to hunger over the last year in this area.

"The condition here is so bad that the food distributed by the neighbourhood anganwadi is brought back home by the children and shared with the entire family," says Sasmita Jena from CRY. "And since the infants are small they are the last priority and are only breastfed by the mother."

Hunger stalks every child who is poor, whether from tribal areas or urban pockets of poverty. India's children in poverty might not all be orphans but they certainly need more, especially in terms of nourishment.
After all stable economic growth can't be sustained on a future that's so hungry today. - Infochange News & Features


Trending Now: