Sanjiv Bhatt Arrest: 'Protest in over 40 cities across the country'
04-October-2011
Vol 2&nbsp|&nbspIssue 39
Civil rights groups, students, teachers and activists have come together to stage protests in different parts of the country against the 'arbitrary and unconstitutional arrest' of suspended DIG Sanjeev Bhatt by the Gujarat Police.

According to Shabnam Hashmi of Anhad, protests were organised in over 40 cities across the country. The protesters demanded immediate release of Mr. Bhatt.

In the capital, a protest was staged at Gujarat Bhawan at the Kautilya Marg, Chanakyapuri Monday afternoon.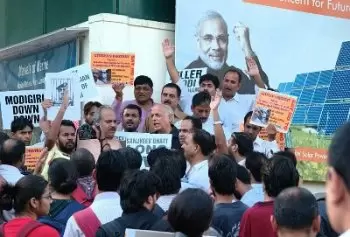 Save Bhatt: Protests demanding the immediate release of Gujarat cop Sanjiv Bhatt are being held across India (Photo: Newzfirst)
"It's a clear case of intimidation of whistle-blowers and shows totalitarian character of Modi regime", said Delhi-based activist Mahtab Alam, adding "We are here to express our solidarity with Mr. Bhatt and his family".
The activists also submitted a memorandum to the Resident Commissioner for Governor of Gujarat at the Gujarat Bhawan seeking immediate and unconditional release of Mr. Bhatt.

Addressing the protest meeting outside Gujarat Bhawan, Filmmaker and Activist, Mahesh Bhatt said, "Sanjiv Bhatt's fault is that he dared to reveal the truth behind the 2002 carnage as also the murder of Haren Pandya."
Referring to his conversation with Sanjeev Bhatt, he said, "I spoke to Sanjiv the evening he was arrested, asking that since the worst had happened, what he needed to tell the world outside. He said it was now for the courts to ensure that the rule of law was imposed in Gujarat and the nation."
Mahesh Bhatt also appealed, "We as civil society should come together and fight this trend of communal and fascist mentality."

Retired DGP and colleague of Sanjeev Bhatt, R B Shreekumar alleged, "The arrest of Sanjeev Bhatt is the peak of the policy followed by the Modi government since the conception, organisation, mobilisation and perpetration of an anti-Muslim carnage in 2002. Of all the actions, this is the most atrocious."

Shreekumar, who himself a victim of Modi further said, "After the 2002 carnage, the Modi government started terrorising the bureaucracy, including the senior police officer who dared to speak the truth."

"If electoral victory is the license for violating the Constitution, then our freedom and democracy is under serious threat," he added.

Activists Shabnam Hashmi, Himanshu Kumar, Sanjay Sharaf, Gauhar Raza, Sandeep Kumar, Faisal Khan, Maulana Ejaz Urfi, Shakeel Ahmed, Madhuresh Kumar, Vani and others also spoke on the occasion.

Earlier a similar protest was staged at Jantar Mantar by Ram Vilas Paswan's Lok Jan Shakti Party. "We want immediate release of Sanjeev Bhatt," said Amanatullah Khan, a party factionary. "Our party will launch a nation-wide campaign if Mr. Bhatt is not released," he added.

While a protest march was organized by Citizen Forum in Patna to show their solidarity with Sanjiv Bhatt.

Citizen forum held the view that the arrest of Sanjiv Bhatt was unwarranted and this is yet another attempt to quell those voices which rose to expose the Gujarat pogrom 2002.

Prof Apoorvanand from Delhi University said Sanjiv Bhatt's arrest is another recent example of how Narendra Modi Govt has been trying to influence the probe into the 2002 riots.

The other prominent members and speakers present on this occasion were Sudha Verghese, Tanveer Akhatar, Pushpraj, Ashok, Mahendra Yadav, Binod Kumar, Prem Nath, Dr Shakeel, Ashok Priyadarshi, Vishwajit, Rajkumar, Anish Ankur, Anil Kumar Chand, Shehela, Visakha, Rupesh kumar, Sarfaraz and others.

(Courtesy: Newzfirst)


Trending Now: