An initiative of Sarva Shiksha Abhiyan and Butterflies is an educative bus journey
Mohita Nagpal
&nbsp | &nbsp New Delhi
22-September-2011
Vol 2&nbsp|&nbspIssue 38
With a book in hand and an eye on the clock, Sumit, 13, knows he isn't prepared for his test. But at exactly 3 p.m., he runs out to the street along with other slum kids and waits for the yellow bus -- his school for the next two hours.
Known as Chalta Firta School, the yellow bus is a whole school rolled into one bus.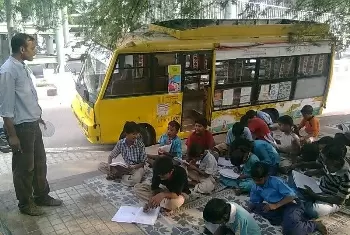 Mobile school: Chalta Firta School functions on the principle, 'if the kids don't go to school, let's take the school to them' (Photos: IANS)
There's a world map staring from the front window, bright alphabet charts hanging around, an LCD screen fitted at the back, best drawings stamped A+ blinking from under the billowing curtains, chess and ludo sets preserved under the seats, water colours and sketch pens kept in flower-printed bags, a patient teacher sitting in front, and 40 students giggling to themselves.
A Sarva Shiksha Abhiyan and NGO Butterflies initiative, Chalta Firta School or mobile learning centre aims to persuade and prepare slum kids in the capital to join formal schools.
"The idea is if children can't go to school, let the schools come to them," says Zaved Nafis Rahman, project coordinator at Butterflies.
On a regular day, the yellow bus shows up at three colonies and stays there for around two hours each. At each place, around 40 kids hop on to the bus and are taken to a nearby place where the bus is allowed to park.
On most days, kids sit on a mattress spread outside the bus, but on particularly hot days, they prefer the vivid confines of the vehicle.
For 1 hour 45 minutes, they study a particular subject -- English, Hindi, maths, social science or science.
The next 15 minutes are dedicated to sports, health check-ups, art, depending on what day it is. Fridays are divided into weekly revision tests and sports.
Saturdays and Sundays are off.
The kids, ranging from 6 to 14 years, are divided into different levels depending on an assessment done on the first day.
"We first identify a slum area and carry out a survey as to how many kids are not going to schools. Then we organise a meeting for parents. For kids, we usually start by showing a documentary or cartoon in our bus," says Maushmi Baruah, a teacher at Butterflies.
"Parents are initially very apprehensive. There are people who spread rumours that we'll kidnap their kids or take them somewhere... but slowly they understand," the 29-year-old says.
"There was a girl whose father forced her out of school in Class 2. We somehow persuaded him to send her to the bus. She was very sincere and intelligent and got admission in Class 5 when she joined a formal school."
Zaved says ever since the bus' launch in 2008, they have 'mainstreamed' 100-150 kids each year. "Some need six months, some more than a year... But most of them end up in schools," he says.
Amit Sahi is one such kid. The 13-year-old son of a labourer living near the Kalkaji temple in south Delhi had dropped out of school in Class 3 due to negligence and ill-health.
One year back, he heard about the yellow bus from a friend and went along with him to get a free ride. It took him 10 months to be ready for school and today he's studying in Class 5 at a government school.
Ask him what he wants to become when he grows up and, without flinching, he says "soldier". He loves skipping, badminton and cricket, apart from reading English poems. His younger brother and sister have also got admission to school.
"These kids were very focussed, a little naughty, but never missed even a single class," Maushmi says, ruffling Amit's hair and in the process spoiling his spikes.
Amit's father Ram Vishal Sahi feels proud but is not one of those pushy parents who expect the world out of their children. "I never tell them what to become in life. I just want them to study and decide for themselves." - IANS


Trending Now: