Karnataka bans holding of tomatoes festival Sunday
17-September-2011
Vol 2&nbsp|&nbspIssue 37
Chief Minister D V Sadananda Gowda's decision to ban the 'tomatoes festival' is welcome. But to claim that it has been banned because it is against 'Indian culture' is untenable. Activists opposed the festival mainly because it involved wasting of tonnes of tomatoes, which is a vulgar and despicable act in a nation where millions go without food every day. It is for this reason we see the ban on the tomatoes festival as a sensible act. Editor
The Karnataka government Friday declined to permit the tomatoes festival (La Tomatina) in Bangalore and Mysore Sunday in response to protests by social activists and citizens against such an event, a senior official said.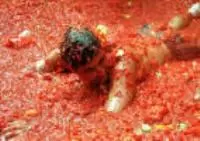 Tomatoes festival in Spain (Photo courtesy: www.spanish-fiestas.com
)
"Chief Minister D.V. Sadananda Gowda directed the police in Bangalore and Mysore not to permit the organisers and sponsors to hold the fest in the two cities as it was against Indian culture," said an official from the chief minister's office.
In the festival, which originated in Spain and spread to other countries over the decades, people hurl tomatoes at each other in frenzied revelry.
Confirming the directive, Bangalore's Additional Police Commissioner Sunil Kumar said the organisers and sponsors such as Goibibo, a travel site and KillerJeans, an apparel firm, have been conveyed that they would not be allowed to hold the fest this weekend.
The chief minister banned the fest after hundreds of citizens petitioned him in person and online contending that such events should not be permitted as wasting a nutritious food item was not only wasteful, but also against Indian ethos.
"We are relieved that Gowda took the initiative in right earnest as it is a luxury to waste tonnes of tomatoes by a chosen few to indulge in fun or revelry," said Bangalorean Akshey Kalra, who launched the campaign against the fest on Change.org.
To prevail upon the government against giving permission to the organisers, Kalra also lodged a complaint with the city police commissioner against the event as it involved transporting tens of thousands of tomatoes for being crushed and flung for "vulgar" entertainment.
"How can tomatoes be thrown for fun when they can be used to feed tens of thousands who do not get a square meal a day in our country," Kalra asserted.
According to the World Food Programme, India has 25 percent of the world's hungry poor.
"Wasting precious food must not become a part of our culture and we must stop such fests," Kalra contended.
The Delhi Police had also banned the tomatoes fest last month due to public protests.
The festival was re-enacted in the recent Bollywood blockbuster "Zindagi Na Milegi Dobara".
Though Spain banned the festival many times, it still is celebrated every year on the last Wednesday of August in many other countries as a fun event. - IANS

Trending Now: