Anna should not dictate terms to parliament: Hegde
27-August-2011
Vol 2&nbsp|&nbspIssue 34
Signalling a further rift with Team Anna, former Supreme Court judge and civil society member Justice N. Santosh Hegde Friday said Anna Hazare should refrain from dictating terms to parliament to pass a resolution on the three conditions he has set for calling off his 11-day-old fast.
"It is not fair to impose conditions on a democratic institution like parliament on a crucial issue like the Lokpal bill. Hazare's demand that his dictum should be accepted by parliament is demeaning," Hegde told reporters at the Freedom Park in the city centre where hundreds of activists and supporters of the anti-graft movement are staging a protest demonstration and fasting.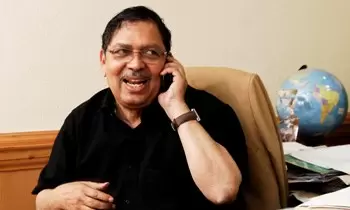 For democracy: Hegde has distanced himself from Team Anna and has appealed for letting the democratic process to prevail (Photo: S Radhakrishna)
Noting that he no longer felt being a part of 'Team Anna' as the developments in the last 24 hours were aggravating the situation and leading to show of strength between the civil society and the government, Hegde said serving an ultimatum to parliament was not the way to fight graft as it would set a dangerous precedent.
"Telling parliament what to do within a timeframe is not the way to go about. As I believe in democratic principles, it is difficult to justify Hazare's terms for ending the fast. We should allow the democratic process to prevail," Hegde asserted.
Hegde was member of the joint panel which drafted the Lokpal bill that was referred to the standing committee after its modified version was introduced in the Lok Sabha early this month.
Reiterating his appeal to Hazare to end his fast as the latter's health and wellbeing was more important, the former Karnataka Lokayukta (ombudsman) said enacting the Lokpal bill would only be a beginning and the struggle against corruption would have to be continued till the entire system was cleansed.
"As Hazare's health is a matter of concern for all, he should end the fast immediately but carry on with the agitation to ensure that the government and lawmakers unanimously pass the Lokpal bill into an Act during this session itself in accordance with the rules of the house," Hegde added. - IANS

Trending Now: