From Kerala to Pakistan, to be back in India brokering peace
Madhusree Chatterjee
&nbsp | &nbsp New Delhi
25-August-2011
Vol 2&nbsp|&nbspIssue 34
In his traditional cotton mundu and khadi kurta, 80-year-old Biyyathil Mohyuddin Kutty looks every inch a sprightly Malayalee from Kerala. The political activist who chose to make Pakistan his home 60 years ago believes that one "cannot know the Pakistanis unless you live there".
Kutty does not let his Kerala sensibility overshadow his Pakistani soul and nationality and likes to call himself a "dyed in the wool Pakistani national."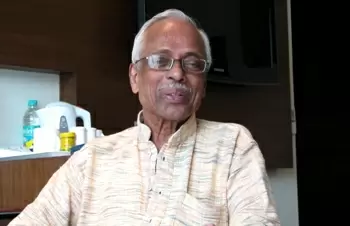 A diehard optimist: Kutty believes that Indo-Pak ties are headed for better days (Photo: IANS)
Kutty, the general secretary of the Pakistan Peace Coalition and former political secretary to the governor of Balochistan, believes that ties between India and Pakistan are poised for a change.
"The recent serial blasts in Mumbai on the eve of the foreign ministers' meeting were a definite attempt to undermine the meeting. But the government of India spokesperson came out clearly that unsubstantiated allegations should not be made against Pakistan and the talks continued. It was a turning point in the India-Pakistan relationship," said Kutty.
Kutty was in the capital recently to launch his book 'Sixty Years in Self-Exile: No Regret - A Political Autobiography', last week. The book has been published by the Pakistan Study Centre (University of Karachi) and Pakistan Labour Trust. The launch was facilitated by the Policy and Planning Group, a social forum promoting cross-border friendship.
A committed socialist, Kutty arrived in Lahore to work as an assistant at the India Coffee House and then switched to a series of multinational companies. But a jail term for alleged trade unionism changed his life.
In 1966, Kutty joined the Trade and Industry Journal as managing editor and later chief editor of Finance and Industry, which later came to be known as the Pakistan Economist.
He rose to become a policymaker in the Balochistan government and later in the Pakistan Peace Committee, where he is currently campaigning against terror and fundamentalist violence and rallying for convivial ties with India. A man of stringent principles, Kutty has been involved in drafting labour statutes and policies for the Pakistan government.
"You cannot know the Pakistanis unless you live there. What is important is that today's Pakistanis are as such not an enemy of Indians. They have all sorts of ideas which they have built up over the years - a particular mindset - which can change with more people meeting each other and communicating with each other."
"Bureaucratic and political meetings don't go down well with the common people of Pakistan because what the bureaucrats decide today they 'un-decide' the next day. People of Pakistan want the exchanges to be lasting," Kutty said.
Pointing out a pattern in the way obstacles have been placed on the road to better understanding between India and Pakistan, Kutty said: "Before the 26/11 blasts in Mumbai, the newly elected president of Pakistan Asif Zardari said India was not our enemy."
"The 26/11 terror strikes took place in three months of Zardari's statement at a time when the government of Pakistan was trying to mend fences with India. The terrorists wanted to sabotage India so that talks between India and Pakistan could not be held," Kutty said.
A few months after the 26/11 Mumbai strikes, Kutty led a Pakistan Peace Coalition delegation to India. "We addressed the students of the universities because that was where we wanted to send the message that Pakistan is not at war with India," he said.
He says the "growth of fundamentalist terror can be linked to Zia-ul Haq's Islamisation of Pakistan".
Kutty's contribution to Pakistan's polity is woven into the story of ethnic Balochistan's development and integration into the Pakistani political mainstream -- a struggle for which he was jailed by former Pakistani president Zulfikar Ali Bhutto, who was later assassinated for treason.
Kutty's daughter was expelled from the Balochistan Medical College.
"Balochistan is misunderstood by external western players. It is one of the richest regions of Pakistan with abundance of gas, gold, chrome and minerals. The region has 10 percent of the population and 48 percent territory. But there has been a sense of deprivation and denial of not being a part of the mainstream. More than four years of military action in 1973-1977 gave rise to extremist tendencies among youth," Kutty said.
"However, Pakistan for the first time made an attempt to bridge the trust deficit with Balochistan with a reform package, Aghaz-e-Huqooq-e-Balochistan. It was released in 2010," he said.
Kutty is loved across the rugged tribal terrain of Balochistan, especially among the tribal warlords.
"In Quetta, I can walk into any home at any time of the day and stay there. They are all my friends," he said.
But Kutty was reticent about Kashmir.
"The only solutions I can foresee are more trade between residents of Pakistan-occupied and Indian Kashmir and more people-to-people contact between the two Kashmirs. You cannot come to any resolution of the Kashmir issue without involving people," Kutty said. - IANS


Trending Now: