Socially conscious Brij Bedi is the man behind the success of Kiran Bedi
25-August-2011
Vol 2&nbsp|&nbspIssue 34
Brij Bedi does not mind being identified as Kiran Bedi's husband. In fact, he rather likes it. He is proud of his wife's achievements though the couple has lived separately for over three decades. "Behind every successful man there is a woman but I am the man behind a successful woman," he quips.
His may not be a high-profile success the 'Crane' Bedi way but for the past two decades he has made a difference in activism, Amritsar style: giving scholarships to students, supporting needy sports persons, cleaning up the city, monitoring traffic, running campaigns against obscene posters on the city walls, preserving paintings in the Baba Atal Sahib building in the Golden Temple and, above all providing education to children of drug addicts.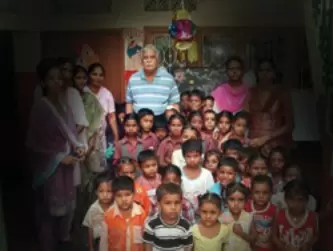 One-man brigade: Brij Bedi's focus is on 'cleaning up' Amritsar and he has done so in more ways than one (Photo courtesy: The Sunday Indian)
Name the cause and there comes Brij Bedi, the handsome debonair man of the 1960s who was born to landed aristocracy. A Master in History from Punjab University, Chandigarh, Brij had many choices – a career in the Army, modelling assignments, or the job of an executive in a leading firm – but he chose to turn to farming soon after Cupid struck Bedi and Kiran Hoshiarpuri on the tennis courts of the Services Club in 1971.
A whirlwind romance was followed by a quiet temple wedding, and soon after Kiran left to be trained as the first woman IPS officer of the country. "I took to farming in my ancestral land at Tugalwala near Gurdaspur," says Bedi.

Kiran's parents moved in with her and Brij chose to remain in Punjab although he was constantly in touch with his daughter Saina, who was born in 1975. He then moved on to setting up a textile processing machinery unit at Amritsar and was ever ready to help anyone in need and supported artists by holding artists' camps in his factory's premises.

"I made a lot of money and the turning point came in 1994 when I set up a foundation in the memory of my late mother and started giving scholarships to deserving students. It was around this time that the growing traffic in the city and violations started attracting my notice. I started photographing the violations and bringing them to the notice of the authorities," he says.

This led to Bedi being appointed Chief Traffic Warden in the city with a group of volunteers under him. Since then the grey-haired aristocrat standing on a busy crossing regularising traffic has been a common sight. After that he led a campaign against obscene posters and succeeded in getting an order against pasting of posters on city walls from the Punjab and Haryana High Court.

Though words like 'maverick' and 'eccentric' are used to describe him, Bedi continued to do what he believed was right. At one point, the Shiromani Gurdwara Parbandhak Committee was all set to whitewash the old wall paintings in Baba Atal Sahib complex and Bedi along with a writer successfully fought for their preservation.
In 2002, a newspaper report on a rundown suburb of the city caught his attention for the headline described it as 'A Colony of Widows'. The head of the family in every other household was a drug addict and in many the bread-winner had died of addiction. He adopted 20 children for education and started a school with the help of a retired teacher of the colony, Master Ajit Singh, in rented premises.
Today, the school, which holds classes up to standard VIII, has 450 children and it owns a premises. "When awards and honours come my way, I avoid them. If an individual cash award comes I give it to the school." He also arranges for higher education and technical training of the students in other institutions. The Maqboolpura school has featured in a big way in the print media and on celluloid as a unique experiment.

What is the happiest moment for this man who was destined to be a social activist? Let's share the secret: it is when Kiran praises his efforts!

Published by special arrangement with The Sunday Indian


Trending Now: