The international community's anger against Sri Lanka may soon be shown in the sports arena

P C Vinoj Kumar
&nbsp | &nbsp Editor
22-July-2011
Vol 2&nbsp|&nbspIssue 29
It seems that Sri Lanka's international isolation may happen sooner rather than later. Recent developments create this impression.
The Australian Cricket Team is under great pressure to call off its upcoming tour to Sri Lanka in August.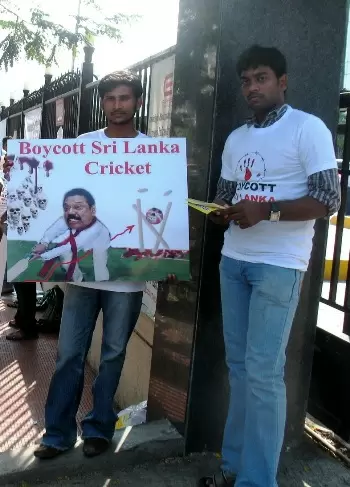 Mounting protests: The May 17 Movement in Chennai has called for boycott of Sri Lankan goods and their cricket team
Though it appears that the Australian Cricket Board wants to go ahead with the tour, a last minute turn around cannot be ruled out given the mounting support for the 'Boycott Sri Lanka' campaign from the Australian media.
Campaigners have so far been demanding that Australia boycott the tour due to "moral reasons" - which is but a call to express outrage against the genocidal war that Sri Lankan President Mahinda Rajapaksa waged to crush Tamil insurgency in the country in which an estimated 40000 Tamils lost their lives in 2008-2009.

But now there's more evidence at hand that Sri Lanka is under a racist regime, and deserves a treatment that the international community gave South Africa in the last century for practising apartheid.
Sri Lanka has just announced its 20 member squad for the Australian series and it does not have a single Tamil player!
If Cricket Australia (CA), the governing body for cricket in Australia, decides to go ahead with the tour it would be playing against a "racially pure" all Sinhalese eleven.
Muthaiah Muralitharan, who was the lone Tamil face in the Sri Lankan team for several years, has retired from international cricket.
Why did Sri Lanka not select a single Tamil into the team? Does the Sri Lankan cricket board mean to say there is no Tamil cricket player in the country good enough to make it into the national squad?
If there is not a single Tamil who is capable of getting into the team, why is it so?
Are the Tamils being given lesser opportunities to play the sport? Or, have they been left out of the team on racial grounds, as they have been kept out of the Sri Lankan army?
South Africa was isolated from international sports because it refused to field black athletes in its Olympic squads.
Sri Lanka needs to be isolated from the cricket world on the same grounds of practising racism in sports.
Popular columnist Peter Roebuck wrote an insightful article recently in which he made references to the Channel 4 documentary 'Sri Lanka's Killing Fields' and argued that sport has to take a stand on such issues.
He wrote: "When it comes to taking a stand, sport has mostly preferred to bury its head in the sand. Claiming it was none of its business, it ignored the state-sponsored slaughter of the Tamils in Sri Lanka and the Ndebele in Zimbabwe in the 1980s. Few condemned the West Indies' refusal to appoint a black captain, a policy that lasted deep into the 1950s."
Roebuck urged the sporting world to be more socially responsible. "Sportsmen and women can no longer pretend lack of knowledge. Facebook, YouTube and so forth have denied them that luxury," he wrote.
Not everyone is pretending lack of knowledge though.
Former England Captain Michael Atherton described Channel 4's documentary as "more shocking than anything seen on television since the Ethiopian food shortages."
Importantly, he noted: "Increasingly, the United Nations' inaction on the evidence of war crimes looks inexcusable. If that continues, it is likely that questions will be asked about the suitability of England's tour to Sri Lanka, scheduled for this winter."

Sri Lanka's only Tamil cricketer till recently, Muralitharan, also reacted, but in a politically correct way.
Muralitharan has said: "Sports and politics are different. If Australia is not going to play any more in Sri Lanka, Pakistan, Zimbabwe.. If they only play in some countries, world cricket will die and IPL will take over."
Muralitharan's statement has to be seen and appreciated in the context of his circumstances. Muralitharan's Tamil speaking family lives in a dangerous environment in Sri Lanka, where anyone who speaks against the government is bumped off.
Also, anyone who refuses to toe the government line when commanded to do so, would also meet the same fate.
So, be kind to Muralitharan. He has got a life!

Also Read: Anti-Rajapaksa protests spread to Nellore, Andhra Pradesh

Trending Now: