A non-violent protest is on in Gandhi's land to save Mother Earth

Nachiketa Desai
&nbsp | &nbsp Ahmedabad
10-June-2011
Vol 2&nbsp|&nbspIssue 23
Farmers and fishermen in Gujarat's remote villages along its 1600-km-long coast are carrying out a non-violent movement for the protection of their land and water bodies which have been sustaining them for generations. These movements have succeeded in stalling at least a dozen industrial projects in the state which is in an overdrive mode to attract investment from around the globe.
The projects facing stiff but peaceful agitation from the people include the proposed 6,000 MW nuclear power plant at Mithi Virdi in the coastal Bhavnagar district, scores of small and medium sized ports and jetties, four thermal power stations, two Special Investment Regions and one Special Economic Zone (SEZ).
A unique feature of all these movements has been that they have received support from local leaders cutting across party lines, non-government organizations (NGOs) and social activists. Veteran Gandhian Chunibhai Vaidya, 93, has been lending active support to these movements.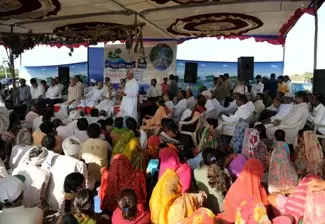 Peaceful dissent: Thousands of villagers in Gujarat are involved in a peaceful movement against the government's attempts to acquire their agricultural lands for industry
The protesting farmers tasted a victory of sorts recently when the union ministry of environment and forests (MoEF) issued a show-cause notice to detergent maker Nirma for permanent suspension of work and revocation of environment clearance for the company's upcoming cement plant near Mahuva in Bhavnagar district.

The agitating farmers' morale also received a boost after Union minister of state for environment and forest Jairam Ramesh, during a visit to Jamnagar called upon the people to "build pressure from the ground" on the government to take necessary action for the protection of their environment.
Even before Jairam Ramesh's call to build public pressure, over 5,000 people from Mahuva took out a 350-km foot march to reach the state capital Gandhinagar demanding the stoppage of the cement plant which would ruin the fragile ecology of the coastal region and deprive the farmers of their fertile land.
The MoEF has also issued a show cause notice to the Mundra Port SEZ of the Adani group for alleged violation of the Coastal Regulation Zone Notification 1991 following a decade long agitation by fishermen.
The proposed thermal power project of the Shapporji Pallanji group at Kodinar and the Essar coal jetty near Salaya too have been facing protest from local farmers. The farmers have also filed a public interest litigation in the Gujarat High Court against these projects.
The gram panchayats of 50 villages of Bhavnagar district have passed a resolution saying they would not part with their fertile farm land for setting up a nuclear power plant.
In what could emerge as a Jaitapur-like protest, the elected members of the panchayat took a 'Do or Die' pledge at a public rally last month saying they would not allow the government to acquire their fertile land.
A large number of people turned up at the rally which was addressed by leaders of the ruling Bharatiya Janata Party, its breakaway group Maha Gujarat Janata Party (MJP), the Congress and several Gandhian organizations.
"Mother earth has been sustaining us for generations in the past, present and will continue to do so in future by giving us cereals, vegetables and a variety of fruits like mango, chikoo, coconut, cashewnut and berries. How can we ever think of selling her? Even if we accept a few crores of rupees for the land, we will end up frittering it away," said Ms Kadviben from Mahuva, addressing the rally.
Farmers of 19 coastal villages of Surat district in South Gujarat, who have formed an action committee to fight against Gujarat government's move to acquire their land for setting up Special Investment Region, have compelled the government to defer issuing of a notification to acquire their land. The government wants to acquire about 20,000 hectares of land for SIR.
The resolve to fight till the last against land acquisition by government or private companies for industrialization had received a boost from anti-corruption crusader Anna Hazare, who on a visit to Gujarat had said a nation-wide campaign against land acquisition by government for industrialisation was the next move he would like to undertake.

Nachiketa Desai is a Special Correspondent with Business India


Trending Now: