IIM girl Tanishk Shyamya's street food project reaches new milestone

30-May-2011
Vol 2&nbsp|&nbspIssue 21
Social entrepreneur and The Weekend Leader's Person of the Year (2010), Tanishk Shyamya continues in her efforts to improve the lives of street food vendors in Ranchi. Tanishk's Streets India gave away new designer food carts to about twenty beneficiaries in Ranchi on May 25, taking the total number of vendors registered with them to fifty.
Streets India follows a unique business model to help the street food vendors. It provides designer carts to beneficiaries and trains them to prepare quality food in hygienic conditions. The carts operate under the brand name of Streets India and the vendors share a portion of their profit with the latter.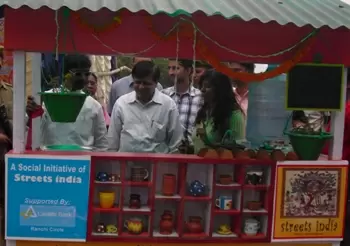 Trendy carts: The new Streets India carts sport a cool design that's both attractive and wonderfully functional
Tanishk (23) completed a diploma in entrepreneurship from IIM Bangalore before embarking on this venture. The project has impacted the lives of several people from below poverty line families. Many beneficiaries have reported several fold increase in their income since they tied up with Streets India.

The Streets India carts are designed by a highly qualified team that includes some IIT students. "We are also training some local carpenters to manufacture these carts so that they too find some employment," says Tanishk.
The new Streets India carts have better lighting facilities, inbuilt dustbins, and potted plants. Field supervisors monitor the carts on a daily basis to check hygiene and ensure quality of food.

The project has transformed the lives of tribal youngsters like Phoolchand Kachhap, and Anjali Tirkey, who turn out smartly for their work wearing their apron, cap and hand gloves.

Also Read
Tanishk Shyamya: The Weekend Leader's Person of the Year

Tanishk Shyamya tells her life story

Trending Now: