Fashion designers make a statement by adopting social causes

Sureka Kadapa-Bose
&nbsp | &nbsp Mumbai
20-May-2011
Vol 2&nbsp|&nbspIssue 20
Today, adopting a "cause" is perhaps the fastest way to make a statement - even a fashion statement. Fashion designers want to use their fame and creative genius to do some social good and at the top of the heap are talented women designers, who have aligned themselves with issues as diverse as female foeticide and education to saving the fast-disappearing breed of film poster artists.

Fashionistas of the West may have set the trend - what with the like of Vogue Editor-in-Chief Anna Wintour and leading designer Vera Wang lending their name to the Fashion & Friends for Japan initiative, in support of the earthquake and tsunami victims - but our desi counterparts are certainly not to be ignored.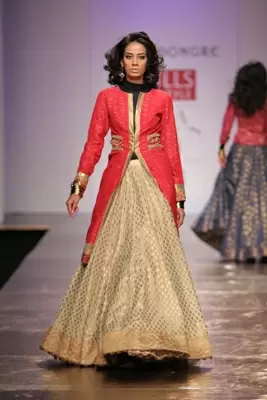 Green fashion: Mumbai-based Anita Dongre has gone green with her creations. (Photo: Anita Dongre/ WFS)
Mumbai-based designer Archana Kochhar works with the NGOs, Beti, a social movement against female foeticide, and Nanhi Kali, which is dedicated to ensuring primary education for underprivileged girl children. Says Kochhar, "Today even though we call ourselves a progressive country we have places where a girl child is killed soon after birth. And there are girls who are excluded from education because they are married off as soon as they reach puberty. I have a daughter and I know how precious she is to us. In my own way I am trying to make people aware of this curse in our society."

Sabah Khan, a Mumbai couturier is just 22 years, but her work has already caught the eye of none other than His Royal Highness, the Prince of Wales. Khan came into the limelight when she presented her debut collection, titled 'No Class', at last year's Lakme Fashion Week in Mumbai. Her inspiration: the inhabitants of Dharavi's slums. Ever since she was a student of the NIFD in Mumbai, she had wanted to do something to highlight the plight of those forced to live in slums. And so she did with her designs. For that collection, the prints on her garments were pictures of children from the slums.

Khan has been a part of various projects of the RACH Charity Foundation that develops and supports community-based initiatives for the social and economic development of mainly slum locations in India.

There's another young designer who is fervently seeking this feel-good factor from her work. It's Delhi-based Nida Mahmood, who has decided to speak up for the fast-disappearing breed of artists, who hand-paint Hindi film posters. "Poster artists went out of work 10 years ago and my endeavour is to bring their art back into circulation," she says.

So, along with artist Raul Chandra, Mahmood has set up a trust, the New India Bioscope Company, with five poster artists from Delhi and two from Meerut, Uttar Pradesh. Just like Khan has pictures of slum children on her clothes, Mahmood has Bollywood posters painted on her designer-wear. And, according to Mahmood, 75 per cent of what she gets from the sale of her poster-art products goes towards the welfare of these artists.

There are designers like the Ahmedabad-based Purvi Doshi, whose particular interest lies in hand-woven fabrics and handcrafted works - like Mashru of Gujarat, Luckhnawi of Uttar Pradesh, Ikkat of Orissa and Andhra Pradesh, woven kota of Madhya Pradesh, khand of Pune (Maharashtra) and leheriya of Rajasthan.

Of course, the one woman whose name one cannot ignore while talking of the revival of Indian weaves is Delhi-based design diva Ritu Kumar. Known for her ethnic creations, Ritu has been lending a helping hand to several grassroots artisans. She has helped revive traditional Indian crafts like block prints, chikankari, zardozi and kalamkari. And at the recent Wills LifeStyle India Fashion Week (WIFW) she presented a Kanjeevaram weaves collection, in order to help contemporarise this weave and bring its weavers to into the spotlight.

South Indian designers too are trying to make a difference. Deepika Govind has been working with different weavers to experiment with fabric and also dyes. Says she, "Such specialised weavers need committed support from the design community to survive."

Environment too has emerged on the runway. Designers like Mumbai-based Anita Dongre have gone green with their creations. There are several other designers, both male and female like Sanchita Ajjampur, Anupama Dayal, Kallol Dutta, Soumitra Mondal, Wendell Rodricks, Imcha Imen, and Digvijay Singh who are trying to do something for the greater social good.

Women's Feature Service

Trending Now: