With no fanfare, they spread the goodwill in Bangalore

Sudha Narasimhachar
&nbsp | &nbsp Bangalore
16-May-2011
Vol 2&nbsp|&nbspIssue 19
All of us rejoice on finding good jobs. We earn our livelihood, save for our future and our children, lead mundane and mechanical lives and retire happily to relax and enjoy. We feel working for 30-35 years of our life is quite a lot and we need to rest. But there are a few who feel retirement is a boon to them to pursue their other passions. They can do things that they always wanted to do but could not due to time constraint.

'Goodwill International' was born out of such thoughts that came to a small group of friends who got into good jobs in companies like MICO, HAL and ITI after a long struggle of poverty, hunger, unemployment and helplessness.

"When we completed our education and were looking for jobs, we had nobody to guide or assist us. We were to fend for ourselves. God was kind enough to us and we got placed in good companies. We are leading comfortable lives. But there are thousands of youngsters who now come out of schools and colleges and get lost in this mad race. We were more concerned about the youth belonging to the lowest of the lower economic classes, most of whom are either failures in their school or school drop-outs," says 70-year-old Alphonse Jemonie.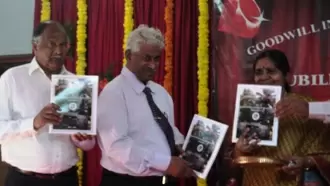 Good work: A souvenir was released on the occasion of the 40th anniversary of Goodwill International on May 1
These kind-hearted friends started off in a small way in one of their homes, contributing Rs.50/- per head in 1971 and later registered as a full-fledged NGO in 1982. Alphonse is the Association's Executive Secretary. He is ably supported by a team of dedicated staff members and very supportive family members led by his active wife Nirmala.

Today, Goodwill International is involved in many social activities. It runs a full-fledged Industrial Training Institute that offers training in about 100 trades. Nearly 180-200 youngsters are trained in every batch at a very nominal fee (because Alphonse and his friends strongly believe that nothing given free of cost carries any value). Uniforms, raw materials and protein- rich food for 3 days in a week are provided free of cost to the students. Those who choose tailoring are taught to make nearly 72 different items, which they can take back. Besides, the Institute also offers opportunities for the trainees to earn while they learn, by getting job-work orders from Government and private organizations.

The Association runs the ITI at Neelasandra, Bangalore and a branch for girls in Yelahanka New Town, Bangalore, in the premises freely let out by philanthropists Padmini and Ramaswamy. Thousands of youngsters who passed out of this ITI are placed in very good jobs, thanks to the excellent liaison that Goodwill International maintains with the Government of Karnataka, Government of India and many industries.

Through another project, they work with school drop-outs in slums. "These children are given the basic education and then put into regular schools run by the Government of Karnataka. Parents do not easily let these children go to schools, as they are earning members of the family," Alphonse.

The Association also conducts health and hygiene camps for the slum-dwellers now and then, apart from training them in English speaking and other skills like tailoring and carpentry.

On May 1 this year, Goodwill International celebrated its 40th anniversary in a grand manner. "We have had no problem as far as finance is concerned. There are thousands of good souls ready to help for genuine causes. We have never gone scouting for funds. We prepare our pucca project reports and present them and funds flow automatically. We never collect funds and then look for projects," says Alphonse modestly.

Goodwill International Association has earned the goodwill of many, who wish them a long and fruitful journey.


Trending Now: