Giving mentally challenged a livelihood is Diya Foundation's mission

Marianne de Nazareth
&nbsp | &nbsp Bangalore
13-May-2011
Vol 2&nbsp|&nbspIssue 19
Sarah Santamaria has a dream: 'To see the Diya Foundation turn into a community project where people realise they must help the less fortunate mentally challenged children to also eke out a living." As of now, 40 mentally challenged teenagers come eagerly every day to the Diya Foundation in Bangalore to learn skills that will change them into productive human beings.

They come from the marginalised strata of Bangalore society and are being imparted with skills that will help them get jobs and support themselves. "Today some of our students are into making products which might have a more local and immediate market. They make Rava idli mix, chutney pudi, and other stuff that earn them a decent livelihood," reveals 48 year old Santamaria, who began the foundation 13 years ago.

As a young woman in Mumbai, she gave up her job as an office secretary to work with mentally challenged youth. "Once these children leave the special schools they attend, how do the ABC and 123 that we teach them equip them to get jobs? Parents of these children will not be there to support them forever. I saw a huge void in that area – what could the child do to support itself after 15 years of attending school? That is when the idea of the Diya Foundation was born and we began educating these young adults with simple skills to help them get work and earn a livelihood," says Sarah.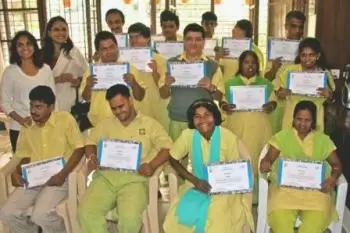 Trained: Diya Foundation's students showing off their vocational course certificates
Candle and chocolate making, computer data entry, hands on gardening like potting and weeding, screen printing, papier mache making are some of the units that Sarah has begun in Diya to impart the skills to the students. But she checks their aptitude before they are sent to learn a particular skill. Since there are so many students clamouring to come to Diya, Sarah has certain criteria when selecting them. Besides being above 15 years of age, they should be potty trained and should be able to concentrate for at least five minutes. " Since it is just me and two social workers who run Diya on donations and the few orders we get, I do not have extra staff to clean up those who are not potty trained," says Sarah.

"In fact it was the family of one of our students who suddenly died of cancer who donated a large sum to start the chocolate making unit," she says.

The Himalaya Drug Company gave them their first order of candles. "It was a hand burning experience," reveals Sarah, "but then that's the only way we can learn."

They also have volunteers who come in from ANZ and Goldman Sachs to chip in with their labour when large orders come in. The volunteer see it as part of their Corporate Social Responsibility and have extended their unstinting support to Diya seeing the positive impact Sarah's work is having on these mentally challenged youth.

"Of course none of this would have happened without the support of my husband Gerry, my sisters-in-law and my children Annie, Adele and Adam. It is their support system which gives me the freedom of following my dream," she says.

Wish to share your story?
Trending Now: