Prahalathan, founder of Bhumi, aims at reaching out to 3500 children
Amar Naik
&nbsp | &nbsp Chennai
29-April-2011
Vol 2&nbsp|&nbspIssue 17
Ophthalmologist K K Prahalathan has set his eyes afar. In 2011, he wants to reach out to at least 3500 children in 40 centres across India through Bhumi, one of India's largest youth enabled non-profit organizations. Started with just a handful of volunteers in 2006, today Bhumi has over 300 active volunteers teaching at learning centers for children in Chennai, Thiruvallur, Bengaluru and Chandigarh. Bhumi has 18 learning centers including nine orphanages, two schools, five slum and two village community centers. In 2009-2010, Bhumi's programme benefited over 1,600 children.

Behind the success of Bhumi is the personal story of Prahalathan, who is also a resident in ophthalmology at a leading Eye Hospital in Chennai. Actually, he was preparing to go to UK for higher studies in 2005 when he joined an NGO in Chennai. It was there he met two other like-minded persons and the trio launched Bhumi with the motto: "Change today. Change tomorrow". Bhumi, which means earth, is a platform for socially conscious young men and women to contribute towards the nation's progress by bridging societal gaps through education.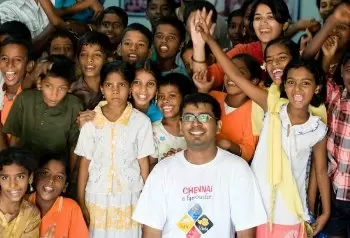 Clear-sight: Dr Prahalathan has very clear ideas on empowering children from underprivileged sections to excel in life
Some of the programmes they initiate at Bhumi include imparting computer skills, English communication, teaching Mathematical and Scientific concepts and leadership qualities to children from underprivileged sections.

For Prahalathan, social work runs in his veins. As a youngster, he had taken part in Lions Club activities with his father, a civil engineer. His mother, a high school teacher, used to run adult literacy programs for slum women.

Prahalathan has already won laurels. He was selected as one of Asia Pacific Emerging 100 youth social entrepreneurs by the Foundation for Youth Social Entrepreneurships in 2009 and as a Facilitator for Tata Jagirti Yatra 2010.

On his long time plans, Prahalathan says that seven to eight years down the line he would like Bhumi to start schools. But it all depends on how the Right to Education Act impacts society, he says.

As of now, he wants the youth to know that Bhumi offers them an opportunity to help the needy children. All that Bhumi expects from its volunteers is two hours in the weekend. One can be part of the mission to contribute for the welfare of society.
Website: http://www.bhumi.org.in/


Trending Now: