'Grand Banyan recycling' is his way of saying 'I Love My Mother Earth'

Kavita Kanan Chandra
&nbsp | &nbsp Mumbai
15-April-2011
Vol 2&nbsp|&nbspIssue 15
This summer, thousands of students from 5000 schools across India will embark on a noble mission to save the earth and also help the poor. Having signed up with the Grand Banyan re-cycling project, many students in Mumbai have already started knocking their neighbours' doors for collecting old newspapers and waste papers.

The old paper would be taken to recycling units, from where the resulting pulp sent to a notebook manufacturer and the notebooks distributed free to rural underprivileged children. "All of us have to come together to conserve nature," says Sanjay Srinivas (35), who hopes to make at least a million notebooks this summer.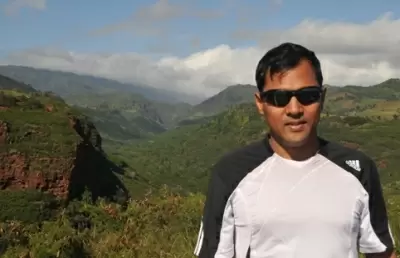 With nature: Sanjay Srinivas wants to save trees by promoting recycling of paper
It is estimated that about 2.5 kg of paper is required to make a 192-page notebook. Accomplishing the dual task of saving more trees and providing notebooks to poor, Sanjay also wants to send across the message behind his mission: Reuse existing resources and redeem our earth from further destruction of environment.

He says that according to Weyerhaeuser (one of the world's largest paper producers) re-cycling one tonne of paper saves 17 trees. It was the thought of conservation that prompted one time marketing professional and now a theatre and film writer, director and producer to launch the NGO 'I Love My Mother Earth' (ilmme) in mid 2010. He was spurred into action after seeing melting glaciers of the Mt Everest while shooting for his acclaimed film 'God Lives In Himalayas' in 2009.

"I also saw the adverse effect of global warming in Kargil and Drass region of Kashmir and felt it was time to act," said Sanjay. Hoping to rope in corporate houses to financially support 'ilmme', Sanjay says that they have a core team, whose members currently pool in their own resources. However they have already tied up with Infosys, HDFC and Price Waterhouse Coopers to collect waste papers from their offices.

Their partnering with 'More Than HR Global' (a non-profit body with human resource personnel as members) would allow them to get corporate support. They plan to tie up with rural NGOs to distribute notebooks and also include the urban poor as beneficiaries.
"In Mumbai we would be reaching out to millions of households on April 17 and April 24 with the campaign 'Mumbai saves mother earth' where citizens would give old newspapers, magazines, books and notebooks," says Sanjay. He added that the school children have already started putting posters in housing societies and collecting old papers. Come May, Sanjay would be in Singapore and then Malaysia to expand his mission. For, this Chennai-born globe trotter wants to have a global presence of 'ilmme' for his conservation efforts to really bear some fruit.

"I had been to several places from beautiful Hawaii to mine-ridden regions of Afghanistan and impact of global warming is evident everywhere," he says. Having been educated in different parts of India as his father had a transferable job, this management graduate from ICFAI (Bangalore) was trained under Jonathan Fox at the school of Playback Theatre in New York. He founded the Bombay Playback Theatre Group in 2001 and till 2005 did several English Plays like 'The Dressing Room', 'Psy-Clone', 'Chaplin in love' and 'Chanakyashashtra'. He also won the 'Best New Director' award at the Monaco Film Festival 2010 for 'God Lives in the Himalayas'.


Trending Now: