Activists move one step closer to achieving the dream anti-corruption law

Kavita Kanan Chandra
&nbsp | &nbsp Mumbai
11-April-2011
Vol 2&nbsp|&nbspIssue 14
Anti-corruption activists across India are celebrating the Government of India's decision to include members of civil society in preparing the draft Lokpal bill. Social activist Anna Hazare's indefinite fast that triggered a nationwide movement in support of his demands forced the government to appoint a ten-member joint committee, comprising of five union ministers and five civil society activists.

While finance minister Pranab Mukherjee has been appointed chairperson of the committee, former law minister Shanti Bhushan will represent civil society as co-chairperson.

Welcoming the development, Venkata Prasadh, coordinator of India Against Corruption (IAC), Chennai Chapter, said, "For the first time since independence a committee comprising civil society members has been formed to draft a bill, it's a nice beginning." IAC activist Malay Bhattacharya from Kolkata echoed his views.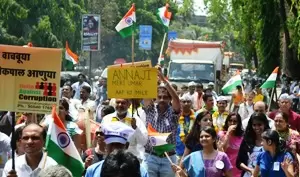 Victory march: Activists are happy that they have won the first round of battle with the government
Hazare ended his fast on the fifth day (April 9) after the government issued the gazette notification constituting the joint-committee, with an ultimatum that the bill has to be passed by August 15.
Among the 45 who fasted continuously at Azad Maidan in Mumbai there were youngsters like Bhushan Jadav (22) of students' organization Chhattra Bharti and senior citizens like Ratna Magotra (64). Breaking their fast they hailed the drafting of Jan Lokpal Bill as the first positive step in their fight against corruption.
While the euphoria is evident across the country, activists are aware they had just won half the battle. "Our war has just begun and we will continue our fight till the bill becomes a reality," said Anand Yadwad, coordinator, IAC, Bangalore.
Some feel the Government is just dragging its feet seeing the mood of the citizens. "We already drafted the Lokpal bill some four months ago and had taken it up for discussion with the government. Now they want to discuss it again; their attitude is not right and we are upset," said Praful Vora from Mumbai.
Ashok Jha from Gwalior and Ambarish from Allahabad said there is still a long way to go before the bill can become a reality. They anticipated hurdles from the government to stall its passage.

According to activists of the India Against Corruption campaign, the Jan Lokpal Bill is the best bet to combat corruption. It had been drafted by Justice Santosh Hegde (former Supreme Court Judge and present Lokayukta of Karnataka), Prashant Bhushan (Supreme Court Lawyer) and Arvind Kejriwal (RTI activist). It is a strong law that requires investigations into a corruption case to be completed within a year and the trial in the next one year, so that a corrupt person is sent to jail without much delay.


Trending Now: