Anita Reddy won a Padma Shri not for her business acumen but social service
Marianne de Nazareth
&nbsp | &nbsp Bangalore
07-April-2011
Vol 2&nbsp|&nbspIssue 14
Like any other rich woman, she could have led a comfortable life wallowing in luxury. But Anita Reddy (57), who was awarded the Padma Shri this year for her social work, chose to be different.

Though she hails from the family that runs the famous Nutrine Sweets business, she now runs two charitable organizations – one, the Dwarkanath Reddy Ramanarpanam Trust started by her father and two, AVAS, the Association for Voluntary Action and Services, launched by her.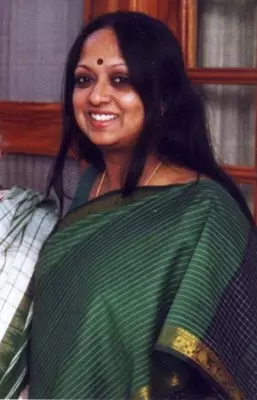 Pure joy: Service to the poor gives absolute satisfaction to Anita Reddy
"Though the Nutrine Sweets Company was started more than 50 years ago by my father, he decided to settle down near Ramanashram in Tiruvannamalai (in Tamil Nadu) after a personal tragedy and pursue the teachings of Bhagavan Ramana Maharshi.

He also started the Ranjini Dwaraknath Reddy Trust (RDRT) - dedicating it to the memory of my late mother - and the Dwaraknath Reddy Ramanarpanam Trust (DRRT)," says Anita.

The Trusts run DRIK (Dwaraknath Reddy Institutes for Knowledge) and DRUVA (Dwaraknath Reddy Centers for Upliftment of Village Artisans) which take up developmental activities for the poor.

"A 40 acre campus in Chickballapur will house the first emerging model of learning called Drishya, which comes under the DRIK banner," reveals Anita. DRUVA supports DWARAKA (Development of Weavers and Rural Artisans in Kalamkari Art) which is empowering the Kalamkari artisans to survive viably.

But what Anita is best known for in Bangalore is AVAS which she initiated in 1978 and registered as a trust in 1980. Narrating her experience as a social worker, she says, "I learnt my lessons on the ground, from the poor, who are systematically oppressed and alienated from us, the main stream city dwellers. I began with the Lakshmipuram slum near Indiranagar and the Sudhamnagar slum near HAL.
"I remember going there alone at dusk unaware that by that time the men of the slums are already quite drunk. A burly group accosted me and said, 'what can you do for us'? Initially they threw challenges – get us electricity, and storm water drains or we will chop you into bits and throw you into the cemetery opposite. That was my starting point but I could see the pain and hope in the eyes of the women and the children."

"In that slum, a young second wife had a second baby daughter. The husband picked up the baby and threw it into the dustbin in front of my eyes. I did not know what to do as I had just come in from the US. Today that baby Chandra is a 25 year old woman, married and having her own children. It was the women's plight that spurred me on to help."

The poor, the mason, auto driver, and your car driver, says Anita, are integral part of our urban economy. "Don't we have to house them too?" she asks pointedly.
"For thirty three years I have learnt to handle cycle chains, stone throwing and court cases. For nine brickbats I get one bouquet which makes it all worthwhile. It takes time to win their trust," she says simply. "Today policy makers make decisions after looking at efforts like mine at the national level."

Her husband Pratap and their three children, Pooja, Siddarth and Ram are extremely supportive of her work. Her efforts now have spread from the urban slums of Bangalore to the little villages of Andhra Pradesh.
"I can see change happening within my lifetime. Just a little effort from our side can help our country's poor make a decent living and build homes for themselves too," she avers.


Trending Now: