Reaching out to the children living with HIV in remote villages of Jharkhand

Santosh H K Narayan
&nbsp | &nbsp Ranchi
11-March-2011
Vol 2&nbsp|&nbspIssue 10
Numerous HIV affected children, many of them orphans, living in the villages of Hazaribag district in Jharkhand would have been totally neglected and let to die with no dignity if Sister Britto had not gone to their rescue three years ago by setting up a residential school - Gyandeep Aavasiye Vidyalaya.

Since the people from Hazaribagh, Chatra, Giridha and Koderma districts go as migrant workers to metropolitan cities, they contract HIV possibly indulging in unsafe sex. More than hundred villagers have fallen prey to HIV since 2000 in this region. Many children are born with HIV.

It was in such a back drop, the Holy Cross Society run Gyandeep Aavasiye Vidyalaya, was established by Sister Britto in 2007. Apart from the HIV positive children, the school also has children from below poverty line (BPL) homes. The lifesaving and sustenance centre currently houses 70 children, including 40 girls, in the age group of 6 to 13.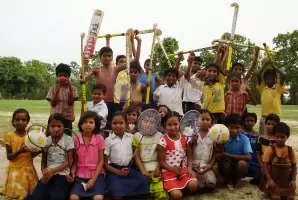 Alive and kicking: Sister Britto's residential school takes care of about 70 HIV positive children, who had nowhere to go
With support from Jharkhand Education Project and National AIDS Control Organisation (NACO), the orphanage-cum-school also makes arrangement for the treatment of the children needing special medical care, in association with Sadar Hospital.

The school also aims at busting common myths about HIV by reaching out to the common people. "We have a team of counsellors. They go to the blocks and inform people about HIV infections. They also bring information about any child suffering from the disease," says Mohan Mistry, coordinator of the school.

Two among the counsellors are HIV positive. "We provide computer education and some kind of skill training to the students so that they can stand on their own feet," says Sister Britto

The Holy Cross Society is also planning to form a women's network, especially for those widowed by HIV, and train them in sewing, knitting and stitching work, besides starting some cottage industry through Self Help Groups.

Sister Britto's work has been widely acknowledged. "She is like Mother Teresa for the people of Jharkhand. I have visited her place and the area and can imagine the fate of the unfortunate children had she not been there. Jharkhand AIDS Control Society provides medical support to the school whenever required," says R P Chaudhary, Chair Support and Treatment, Jharkhand AIDS Control Society.

Sister Britto attributes the success of her mission to the local people and the civil administration. "The initiative may be mine but it would not have succeeded had I not got support from the administration," she says modestly.


Trending Now: