A bomb blast brings together students in Kolkata against terrorism

Lesley D Biswas
&nbsp | &nbsp Kolkata
23-February-2011
Vol 1&nbsp|&nbspIssue 7
For the Government and the media, victims of terror attacks are often mere numbers and statistics. But the grief haunts the friends and relatives of the victims long after the media and the government stop talking about the incident and move on to other issues.

In Kolkata, some college students have formed an organisation called 'Youth for Interaction, Knowledge, Awareness and Action' (Youthikaa) to condemn all forms of terrorism, after one of them, Chitrangada Chakraborty, lost her best friend Anindyee Char in a bomb blast.

Anindyee, her brother Ankik, and two other friends Shilpa Goenka and Rajeev Agarwal had died in the gruesome German Bakery bomb blast in Pune last February. They were among the nearly twenty persons who lost their lives in the incident.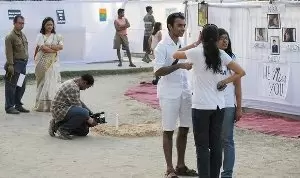 Art for peace: Youthikaa held an art exhibition to promote the message of love and peace
Shocked by the incident, and feeling an urge to do something to prevent such incidents in future, Chitrangada and some of her friends formed Youthikaa with the aim of spreading the message of peace and anti-terrorism amongst the younger generation.

It began with a peace rally by hundreds of college and school students in Kolkata on February 21 last year to condemn the perpetrators of the dastardly German bakery blast. The students carried posters and placards condemning all acts of terrorism. Following the rally, Chitrangada and her friends formed Youthikaa to continue their efforts to spread peace.

Over the last one year, Youthikaa has been relentlessly working towards this objective. To spread the message of love and peace amongst the youth of the city, whom they believe have the potential to win over hatred with love, they began to mobilize students through various workshops and events based on the theme of 'Peace'. As part of their awareness campaign, they held an art workshop and a rock concert.

"Our objective is to spread the message of peace and anti-terrorism amongst the youth in every corner of the country because we believe that no one is born a terrorist, nor does one become a terrorist in a day. Youth are led astray and manipulated to do wrong. We hope to impact young minds that will grow up into people with a strong conviction that, 'I won't put a bomb in a café, no matter what'," asserts Chitrangada.


Trending Now: