MAD growth - 800 youth tutoring 2500 kids in 10 cities

Kavita Kanan Chandra
&nbsp | &nbsp Mumbai
11-February-2011
Vol 2&nbsp|&nbspIssue 6
When US First Lady Michelle Obama came to Mumbai in November, a group of young boys from street shelters, orphanages and poor homes were among those who had an audience with her. The underprivileged children were thrilled by the meeting, for they managed to speak to her in English.

Those boys, aged between 10 and 15, are being trained in English communication skills at the Father Agnel Ashram at Bandra by a group of youth on Wednesday and Saturday evenings. For the kids, to whom quality education is more a dream, communicating in English is a giant step ahead and the youth who made it possible are from an organization called Make a Difference (MAD).
Started in 2006 by 20 second year college students in Kochi to teach communicative English to 100 poor students, MAD has now spread to ten major cities with about 800 volunteers providing quality education to 2500 kids.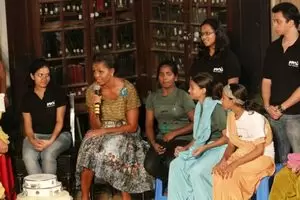 Flying high: English can take people places, believe the founders of Make a Difference. In the picture above, children from MAD centres are seen having a conversation with US First Lady Michelle Obama
"I was always interested in social work. When we came to know about MAD, some friends got together and started the Mumbai chapter in 2008," says Tanmay Arora, President MAD Mumbai, who is a BBA student in Narsee Monji Institute.
"The average age of MAD volunteers is 23 and 80 percent of them are college students. The rest are young professionals," says Gloria Benny, co-founder and National President of MAD. The organization has emerged as the fastest growing youth volunteer networks in India.

Pari (20 yrs), a student of Mithibai College, says that MAD is a young vibrant organization and a volunteer has to devote just two to four hours a week of teaching. "I derive loads of satisfaction teaching the kids and they are almost like an extended family," says Pari, who was touched by the gesture of her wards when they surprised her on her birthday with handmade cards and a cake.
It was an urge to do something good for the society that prompted Jithin C Nedumala and SujithVarkey, to visit an orphanage in Kochi where they noticed that the children lacked communication skills in English, hampering their ability to gain meaningful employment or make progress in life.
They had met an exceptionally bright child in the orphanage but during their next visit they found he was sent to work in a manufacturing unit in Coimbatore. They felt bad for him and realized that what he lacked was the right support.
"English is not taught well in our country. For kids to become employable, they need good communication skills in English, computer skills and career awareness," says Sujith, one of the co-founders of MAD.
MAD teaches communicative English based on the Cambridge University English for schools curriculum and high-potential college students are selected and given professional training.

Gloria, who works for Google, Hyderabad, attributes the zero per cent drop out from the training to their innovative technology integrated to the volunteer management system. "We have MAD online volunteer management system by which we monitor our classes across the cities. We get feedback from volunteers and then structure our training modules based on the feedback," she says.

As far as funding goes, fifty percent of the aid comes from corporate sponsor 'Zoho' and the rest from donations. MAD now has chapters in Kochi, Thiruvananthapuram, Mumbai, Delhi, Chennai, Hyderabad, Pune, Nagpur, Bangalore and Mangalore. Kolkata and Chandigarh will soon be added to the list.

MAD has already won honours like the Ashoka Global Youth Social Entrepreneur Award, India Shines award, Karmaveer Puraskar and a Global award from Nobel Peace laureate, Martti Ahtisaari.


Trending Now: