Cycling 30,000 km to create awareness on eye donation

Lesley D Biswas
&nbsp | &nbsp Kolkata
21-January-2011
Vol 2&nbsp|&nbspIssue 3
He has no sophisticated mountain bike nor is he aiming for any world record. Yet Chayan Mondal, driven by an extraordinary yearning to do something for humanity, is currently cycling the length and breadth of India. He embarked on the solo cycling expedition to spread awareness about eye donation after he discovered that prejudice surrounding eye donation is a major deterrent to restoring eyesight to many victims of cornea blindness.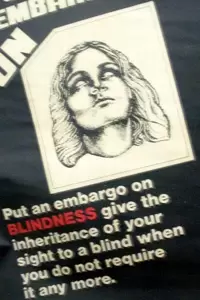 Super vision: 22-year-old Chayan Mondal is covering an average of 60 km daily on his bicycle to promote eye donation (picture above is of a banner promoting eye donation)
The 500-day expedition was flagged off on November 8, 2010, from the Calcutta Press Club. Mondal aims at covering 28 states, spanning 30,000 km and touching state capitals and major cities in the country to spread his message. Mondal who hails from Usthi, a small village in Mathurapur in South 24 parganas, West Bengal, where his parents are farmers, is the youngest member of International Eye Bank, Calcutta.

An adventure lover at heart with passions for cycling, rock climbing and mountaineering, he chose to cycle so that he could interact with as many people as possible during the country wide campaign. He is holding seminars at schools and local clubs like the Lions club, Rotary clubs and International Eye Banks to make people aware about eye donation.

Speaking from a small town near Chennai, Mondal says: "I'm ahead of schedule. Normally, I pace myself at 60 km a day, but then if the road is good, I have done 80 or even 90 km. Sometimes, I'm forced to do an extra few kilometres to find a safe shelter for the night. I should be at Kanyakumari on January 22 and at Bengaluru on February 14."

Mondal who had set off with a combined fund raised from the West Bengal Government, The International Eye Bank and his own hard earned money from private tuitions, has a message on his bicycle, which reads, "Your Eyes Can Add Light To Someone Else's Life."
He had hoped to spend the nights at police stations to cut costs, but due to security concerns the police department is not allowing this and so he has now been forced to find lodging at his own expense. With nerves of steel he has been preparing for this expedition for five years.

"I did my graduation in geography with this objective in mind," says the 22-year-old, who has completed a course from the Himalayan Mountaineering Institute in Darjeeling. "It was important that I know a couple of things about hilly terrains as I will be embarking on the most difficult stretch of my journey, the Srinagar-Leh stretch," he says.

In 2007 Mondal climbed Mt. Rathong in West Sikkim and it has given him the much needed impetus to navigate the Srinagar-Leh stretch. As on January 8, he had covered 3,635 km through West Bengal, Orissa, Chhattisgarh, Andhra Pradesh and Tamil Nadu. The ride has been smooth so far, barring the Kalinga Ghat in Orissa which was the most challenging stretch owing to its steep climb.

"I'm carrying a flag with my mission written on it," says Mondal. His aim is to place the flag at Amarnath. "But, I cannot accomplish this by myself as it's a walk from Srinagar and I don't want the flag to touch down. So I've called my uncle to accompany me," says Mondal, who has pledged his eyes and hopes that his expedition motivates others to do the same.


Trending Now: