Assaulted RTI activist Yashwant Gavand vows to continue his fight against corruption

Kavita Kanan Chandra
&nbsp | &nbsp Mumbai
14-January-2011
Vol 2&nbsp|&nbspIssue 2
You can crush a person's bones but not the spirit, particularly if it is Yashwant Gavand, the 47-year-old RTI (Right to Information) activist. He was attacked by a mob of 30 a day after the dawn of New Year but remains steely in his resolve to continue with the fight for people's rights.

Gavand has accused associates of the Bhandup Shiv Sena Corporator, Suresh Shinde, for the attack. He had filed several writ petitions in the course of two years in the court and availed the RTI to prove that the corporator built illegal structures while in power. He also has evidence that Shinde had not declared several assets to the election commission during the last election.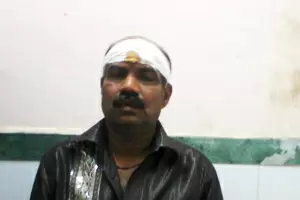 Defiant: RTI activist Yashwant Gavand who was attacked brutally on January 2 is a poet at heart. He sings, "I saw my death yesterday but I live and this is only to serve my society"
A poet at heart, Gavand, who is associated with the Sahitya Sanskruti Mahamandal (Literature and Cultural Association) of Maharashtra and a huge fan of noted Marathi poet Shantaram Nandgaonkar, recites few verses of his own to sum up his state of mind: "I saw my death yesterday but I live and this is only to serve my society"

With his head bandaged and reclining on his hospital bed, Gavand says that he had been receiving threats prior to the brutal attack on him. On the morning of 2 January, an inaugural function was being organised by the Sarveshwar Mahaganpati Mandal in Bhandup (W) and Gavand was in the vicinity when the assault happened. "This is a fight against corruption, it is a movement that needs martyrs," says Gavand.

A Bachelor of Electropathy, Medicine and Surgery (BEMS), Gavand could not pursue a job and got entangled in personal matters regarding his property. While interacting with lawyers he learned about filing of writs. Always keen to question something inappropriate, he took advantage of the RTI Act when it was passed in 2005.
He had earlier filed a PIL (Public Interest Litigation) in Mumbai High Court urging the court to give directions to BMC (Brihanmumbai Municipal Corporation) to remove encroachment around a small lake in his locality, desilt it and maintain the same. However, he could not succeed in what he set out to do as the court asked the local community and NGOs to do the same.
With RTI, he finally found a weapon to get information regarding anything inappropriate happening in his area. "The movement of RTI should not be diluted just because certain people with vested interests are questioning its alleged misuse. Let us not look at RTI with suspicion; this is the only weapon a common man has to find out what is happening in our society," says Gavand.
To enable other people to file their own RTI applications, Gavand has trained a typist, Sudarshan in Bhandup. There is a ready format and anyone eager to file RTI could do so without any hassle. He is also campaigning to set up a super speciality hospital in the eastern suburbs of Mumbai.

Being a bachelor helps, he says, for he has enough time to inquire on issues relating to his locality.


Trending Now: