The head of Oxfam India wants to help the disadvantaged

Partho Burman
&nbsp | &nbsp New Delhi
03-December-2010
Vol 1&nbsp|&nbspIssue 14
Fighting poverty and injustice for a long time in states such as UP, Bihar, Uttrakhand, Jharkhand, Chhattisgarh, Assam and Orissa, Oxfam, a multi-million dollar international NGO, has been focusing on helping Dalits, Muslims, Tribal People and Women. Now with Nisha Agrawal as the CEO of Oxfam India, which was formed two years ago, the organisation wants to change the world.

Nisha Agrawal, who worked in Washington for ten years, in Vietnam for five years and Cambodia for four years, came to India in 2008 as CEO of Oxfam India. She hosted the fourth cycle of the Oxfam International Youth Partnerships (OIYP) program on November 22. The first of its kind program in India brought 300 youth 'Action Partners' together from 100 countries to help them develop their knowledge and expertise in proficiently executing community based projects.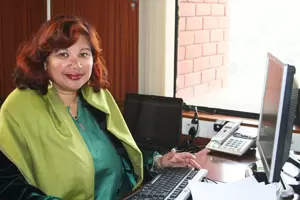 Nisha Agrawal, CEO of Oxfam India says her organisation is committed to fighting poverty and injustice in the country
Social development is an untapped area which can easily be revived, if the right measures are taken by the people, says Agrawal, adding that Oxfam works on a wide range of sectors like agriculture, health, education, food and disaster management.

"We want to change the world. We think there is too much poverty and too much injustice. If we can find young leaders, we can train them and develop their talents so that they can go back and bring about the kind of change we want to see in the world - to make it a more equal world, a more just and a more sustainable world," she says.

On Oxfam's future plans, Agrawal says they have plans to now raise funds in India itself. "We think that it is very important to involve middleclass Indians into all these development programmes. In the past, all these development funding used to come from abroad. Now, donors are saying that India is a middle-income country and do not want to provide funds for us."

Oxfam, which funds 200 NGOs on the ground, is quite happy with the cooperation between the Government and NGOs in India. "In some countries NGOs are not very effective because they take a very confrontational attitude. They think everything the government does is bad. But we don't think like that. In India, the NGOs are realizing that only the government can provide rights to us. We are not a substitute for the government," says Agrawal.

She is quite happy with the way the 200 NGOs funded by Oxfam are working in India. Their work among the downtrodden involve ensuring land rights for Dalits and others, and empowering marginalised communities like migrant workers to demand their basic rights like education for their children. "In Bundelkhand we organised the fishing community to reclaim their ponds, built over 100 years ago. Those fishing ponds in the otherwise dry area had been taken over by the rich people. After reclaiming the ponds, the people started engaging in fish breeding and we taught them to market the produce," she says.

Most of their projects are aimed at giving marginalised people the strength and confidence to fight for their rights and reclaim what has been taken away from them, says Agrawal.

Trending Now: